What is a weekly review?
A weekly review measures progress towards our monthly goals and can also serve as a self-care check that aids in relieving stress and anxiety from the hectic week before.
We've all experienced those crazy, slow weeks where we're looking forward to Fridays.
And, unfortunately, they're often more common than not.
Leaping into the weekend without assessing what went well and what went wrong will most likely lead to mentally draining weeks to follow.
Let's normalize the prevention of burnout at all costs, shall we?
To offset spiraling in the coming weeks ahead, weekly reflection questions can ease stress and anxiety.
When conducted regularly, weekly reviews allow us to enter the week after with a fresh start.
Imagine a weekend without worry, mental strain, and countless thoughts about what will happen on Monday.
The Sunday scaries are real, you guys!
Weekly reflection questions provide us with an opportunity to write our thoughts (the good, bad, and the ugly) on paper rather than mulling over them in our heads or venting our frustrations to friends and family.
It's an exercise that's best completed each Friday. This way, we're aware of our wins and losses, and not under a gray cloud when we spend time with the people we love.
What's even better is that we can conduct weekly reviews in several ways.
Check out a few of my favorite weekly reflection strategies below!
How do you do a weekly reflection?
Flashcards – make it interesting and interactive, have a friend ask you the questions
Mood chart – personalize it with stickers, make it colorful, and get creative
Journal – track your progress by using weekly reflection questions as writing prompts
Scrapbook – take photos to commemorate the week
Memory Capsule – use audio or video to reflect on your week through diary entries that you can keep private or share publicly
Visual Wall – use charts, diagrams, or pictures on a white or cork board to reflect on your week
Develop weekly reflection questions for at least 4-5 lifestyle quadrants that require daily nurturing and attention.
Choose from any of the following lifestyle quadrants:
Health
Career
Finance
Relationships
Spirituality
Personal Goals
What are some good weekly reflection questions?
Health
Did I reach my daily fitness goals?
How did my diet make me feel this week?
What adjustments to my fitness plan can I make next week?
How does my body feel? Stressed? Energized?
How many gallons of water did I intake to stay hydrated each day?
How do I feel? What can I do to improve my current mental state?
What activity did I complete that brings me pleasure, joy, and happiness?
career
What progress have I made towards my professional and/or business goals this week?
Describe one win and one loss for the week.
What action steps can I take next week to yield a different outcome?
What is one thing I can do to take me one step further in my profession or business next week?
Finance
Did I stay within my budget this week?
How much money did I save?
How much money did I invest?
What things or activities can I spend more or less on?
What purchase(s) did I make that will bring me a positive ROI?
How did I use my expendable funds to help others?
Relationships
How much time did you spend with the people you love?
How many people did you check in on?
Who can you love up on a bit more?
Who should you love up on less?
Name at least one or more social events or activities you took part in that brought you joy this week.
How much support did you receive and/or give to your friend group this week?
Spirituality
Did you engage in breath work?
How frequently did you meditate to clear your mind?
Which exercises helped you connect with your inner self and/or higher being this week?
In what ways did you show gratitude towards others?
What were you most grateful for this week?
Who or what inspired you this week?
Personal Goals
How did your abundance mindset show up in your life this week?
Describe the self-care activities you took part in this week?
How were you intentional about your personal development this week?
How did you deal with conflict or issues this week? Did you respond negatively or positively?
Do you feel optimistic about next week?
What are you looking forward to?
If you could make a different decision this week, what would it be and why?
These can also be used as weekly reflection journal prompts.
Why are weekly reflections important?
We rarely give ourselves enough time or grace to recalibrate throughout the week on how we feel, what went right or what went wrong, or give more thought to the choices we make.
We usually come to decisions based on emotion, the input we receive from others, or our concern with the perceptions of others.
Have you ever regretted a decision you made at the last minute?
Have you ever allowed one negative comment or interaction to set the tone for your day?
We aren't fully aware of how many external factors impede on our mental health, financial decisions, and self-motivation daily.
Weekly reflections help us connect the dots.
An accumulation of unfavorable situations and unfortunate circumstances in a brief span of time can easily outshine the good.
Sitting down and consciously thinking about your wins and what went right can instantly uplift your mood.
Missed opportunities, conflict, or mistreatment from others prevent us from focusing on the things we should celebrate instead.
'Bad weeks' are usually a chain reaction of negative occurrences that take place within the same time frame.
While it's natural to dwell on things that offend us or make us feel discarded, we have to make sure we focus on what makes us happy, too.  
That's why it's important to develop a habit of reflecting daily.
Yes, goal-friends, checking in with yourself is just as important as checking in on others.
Neglecting our emotions and leading unhealthy lifestyles is a recipe for disaster.
Research has proven that depression results from excess mental stress, worry, and anxiety.
Weekly reflection questions help with warding off negative thoughts and increase self-motivation to reach personal goals.
What do you put in a weekly reflection?
Weekly reflections don't have to be long and drawn out. In fact, they should be effortless to complete.
The questions we ask are what matters most, so we should be intentional when we prepare them.
My advice is to start off by envisioning what the 'perfect week' would look like in your life as it is now.
Write out a two column list to assess what you enjoy, and what you would like to change?
For some, it may comprise a schedule change, planning date nights, spending less time on social media and watching TV, or dedicating more hours to moving your body more.
Personalized weekly reflections should never look the same. It's also okay to switch them up from week to week.
Our personal experiences, weekly events, and circumstances aren't stagnant, but forever changing.
If you're working towards a goal, each weekly outcome will be different.
And even then, no day is exactly the same.
Weekly reflection questions assist with boosting productivity, meeting weekly goals, and providing direction on where our focus needs to be for weeks to come.
I recently started an earlier work schedule to dedicate my afternoons and evenings to my personal and business goals outside of work.
Maybe you'd like to spend more time with family, friends, or a significant other rather than working 12-hour days or working overtime in the evenings and weekends.
How can you restructure your schedule to do so?
If weight loss is a goal, preparing a healthy lunch at home rather than ordering take out is 9 times out of 10 much more beneficial and your body will thank you for it.
Is cleaning or house chores taking up most of your time in the evening?
Try tidying your spaces throughout the day or throwing a load of laundry in during your 15-minute breaks if you work from home.
What should I ask on Sunday to prepare for the week?
Sunday Reset Routine
First, check in with yourself and reflect on how you would like to feel at the start of a brand new week.
Are you feeling overwhelmed, excited, anxious, or exhausted?
Before answering your weekly reflection questions, follow a Sunday reset routine.
Doing this can put you in the right frame of mind and contribute to a less stressful week ahead.
On Sundays, I mostly indulge in self-care, sleeping in to catch up on a few extra hours of sleep, recalibrating my goals, and focusing on how I can mature on a spiritual and personal level.
I use my vision board as a guide and reminder of how I'd like to show up in the world, and what I'd like to manifest in my personal life.
How often do you revisit the vision you've set for your life?
Self-check-ins are necessary to make sure we're still on the right path.
We can't determine the timeline in which we can check goals off our list, but we can review our vision frequently to make sure we stay on track.
Reserve Sundays for you.
Sunday Reset Activities
10 Sunday reset activities you can incorporate in your routine this week:
Sunday brunch (if you need social interaction)
Set an afternoon curfew
Morning yoga, a nature hike, or bike ride
Mini facial or slugging (rehydrate your skin)
Set boundaries around your accessibility (no phones or visitors)
Complete an activity that reduces stress or anxiety (Sudoku puzzles – or adult coloring books)
Write a weekly reflection journal entry
Do not check work or business emails
Write a weekly to-do list and prep for work before seven o'clock at night
Read a fiction book for 1-2 hours
Sunday weekly reflection question examples
To prepare for the week ahead, consider asking yourself broad, open-ended questions that help you reflect and strategically evaluate what happened over the past week to make the following week your best one yet!
What tasks do I need to prioritize this week?
If I can accomplish one goal this week, what will it be and why?
Did I accomplish any of my goals last week?
Was I consistent with my routines and well organized last week?
How can I stay focused and on task this week?
What important decisions do I need to make?
What extracurricular activities can contribute to my personal development this week?
How did I feel at the end of last week?
What habits do I need to practice more? What poor habits do I need to break?
What personal connections did I make last week?
In what ways can I improve my personal relationships?
How will I lend my support to those around me this week?
What and/or who am I thankful for in my life right now?
If I could change one negative trait about myself, what would it be and why?
How can I show up in the world as my future self next week?
Weekly reflection questions go hand in hand with goal setting.
Reflecting on your personal, professional, and business goals is imperative to meeting them.
Daily habits and routines help to identify the actions and steps we need to take in order to be successful in every area of our life.
The more strategic and intentional your weekly reviews are, the better. You can even schedule them in with a daily routine planner.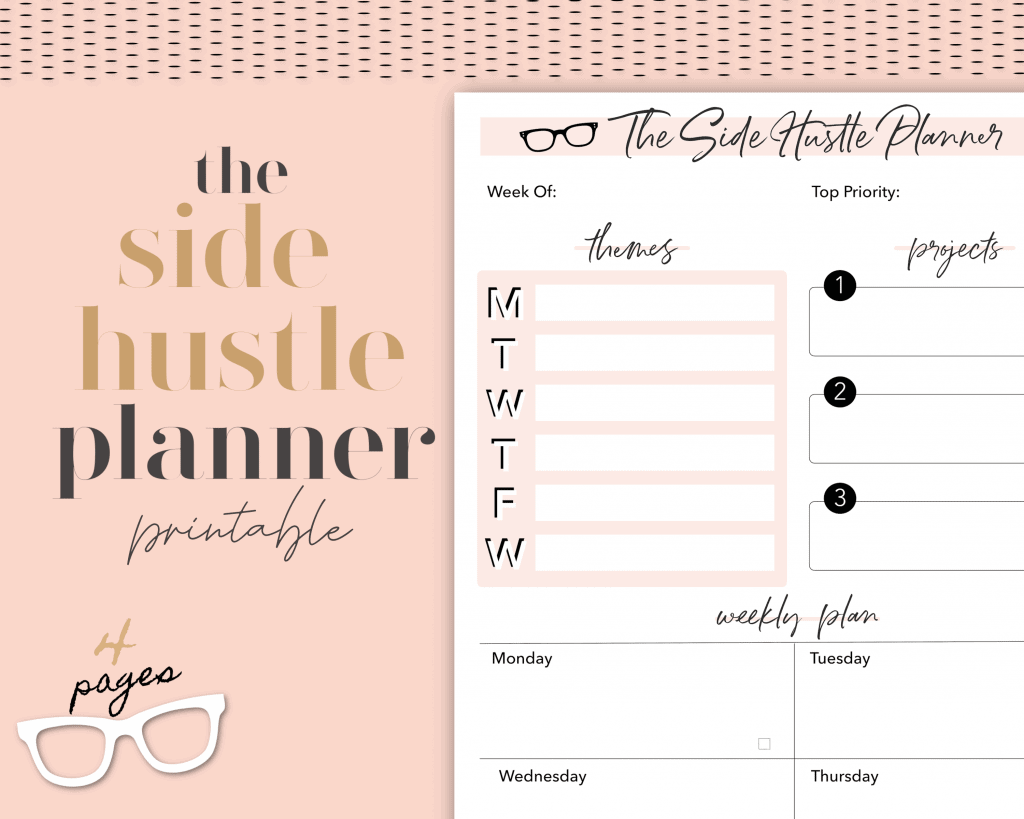 Grab a journal or notepad dedicated to answering your weekly reflection questions and start today!
I teach entrepreneurs how to simplify their life and business with less + own their time and maximize productivity towards their personal and monetary goals.