Are you tired of how complicated your life is? Worried about how easy it is to get overwhelmed and overloaded? If that's the case, it's time to step back and take care of yourself by embracing simplicity living.
Life is raw and beautiful, or at least it should be. Somewhere along the long, hard road of this thing we call life we have become so engrossed with success and competition that we have lost the true meaning of it.
It's been drowned out by all the noise we encounter on a daily basis from social media, comparing ourselves to others, and obsessing over material things.
Imagine living in a world where we all embraced simplicity. How would it feel to live in a place where time seemed infinite and we all made the conscious decision to live slow?
A few years ago, I visited a small town in Italy where they made it their daily mission to spend as much time as possible with their families, and took frequent breaks throughout the workday to simply be.
If I could live anywhere in the world it would be Ravello, Italy.
They aren't privileged with the latest technology, futuristic cars, or modern methods of transportation, which I simply adore. They haven't adopted all the luxuries we consider normal and don't have endless options to move fast.
This is the type of lifestyle I would prefer; spending time in the garden, reading, cooking, and enjoying my family at dinner without all the distractions and hustle and bustle that comes with work.
There are plenty of ways to simplify your life, you just have to make the conscience decision to do so.
And if you're still wondering what simplicity living even means, keep reading below!
The simplicity of life – definition and meaning
Simplicity is the clarity in which you will find the true meaning of life. It is the discovery of the things that you value the most and the removal of the mundane and unnecessary things.
At the intersection of minimalism and self-care, lies simplicity and bliss. Simplicity living teaches us how to live a life filled with peace, love, and happiness.
Benefits of simplicity in life
Living an abundant and fulfilling life starts from within. A journey of self-growth is what will make your life, alluring, beautiful, and worth living.
You don't have to hoard things to create a mythical state of happiness and bliss for yourself – all you have to do is appreciate the little things around you and get lost in the mesmerizing beauty that life is.
From healthy relationships to better finances, you will see the magic of simplicity living pretty quickly.
Attaining a certain social status or accumulating an abundance of wealth will never guarantee happiness.
Many people suffer from loneliness and depression once they reach the pinnacle of their careers and realize their riches and possessions can't keep them company at night.
Why are we so quick to trade lives with public figures and celebrities we know nothing about? When you're judging someone's life from the outside looking in it's easy to be deceived by your own perception.
You know, the one you created when you watched them in movies, saw them posing in magazines, or in the heavily edited photos they post on social media?
Would you be surprised to learn that many of them would trade the world for the very thing we take for granted the most? Family. Loving relationships. Freedom. Peace of mind…Time.
Take a moment to think about the things or people you simply can't live without. Create a list then narrow it down to only three.
Would your life still feel full with just the remaining items on your list? This is the first step towards simplicity living.
15 ways to fall in love with simplicity living
Why not practice a simpler way of living?
Simple living is a lot less stressful and way more fulfilling. Learning how to practice simplicity is easy. No one expects you to improve overnight – take small steps that help you avoid the crazy pace of the world these days.
There are several ways to start a simplistic lifestyle. You don't have to be strategic, an initial step is appreciating the smaller things in life more.
Love what you do
Do you dislike getting up in the morning because of the job you have? You don't have to drudge through the work while looking forward to the arrival of the weekend. You can simply change your mindset towards the work that you do.
There's a reason why pursuing what we love and having a passion for what we do as a career is ingrained in us at a very early age from our parents and teachers.
What's worse than hating what you do to make a living? Those forty hour work weeks may not feel as grueling when you're actually doing something that you love.
My advice to you is to not balance work and life, but to choose a career where they both complement each other instead. Think of your job as a piece of art, and think of yourself as the artist breathing life into it.
Focus on the creative aspect of your role within the company you work for, or how your unique ideas can contribute to a business you're building from the ground up.
Instead of getting caught up in office politics or competing with coworkers, look for a deeper meaning in the work that you do, so you can look forward to each day.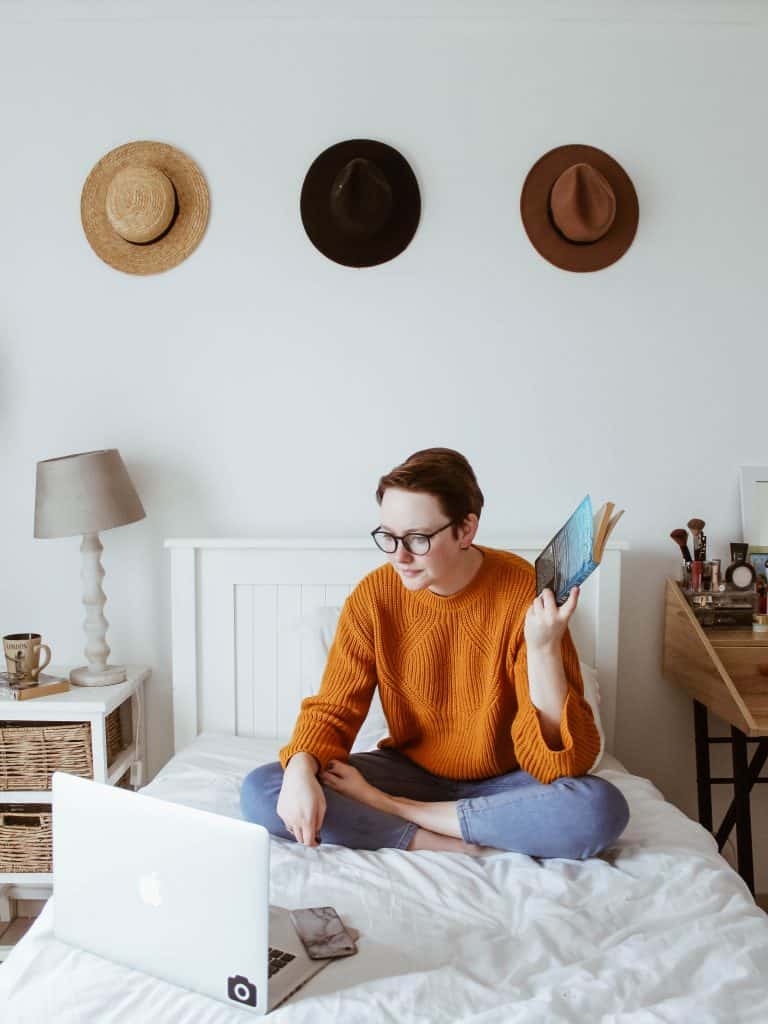 Eliminate Distractions
Technology is the bridge that connects us and it's also the bridge that keeps us apart as well. FOMO (fear of missing out) is one of the main reasons why taking a long-term hiatus from social media and television is hard to do.
Our daily consumption of the latest Netflix series, trending news, or music from our favorite artists plays a major role in our daily interactions with friends. The hot topics we discuss often center around what's popular at the moment.
If we're not informed or 'in the know', then how do we participate or keep abreast of the latest trends?
Well, to that I say, create your own. Marching to the beat of your own drum and focusing on what impacts you directly is much easier and less stressful.
I may be telling my age, but there was a point in time where we didn't have smartphones, cool gadgets like ipads, or streaming services where you could watch all of your favorite movies and shows on demand.
Not having these luxuries freed up more time to spend with our family and friends. We were able to enjoy being outside more and attended in-person events as opposed to couch surfing, watching Youtube or coming up with Tik Tok dances.
Back then it was easier to focus on who and what mattered most. We valued our connections and relationships more than hopping on Instagram for the day. It's definitely something worth getting back to.
Eliminate digital distractions and see how peaceful your life becomes. A rule as simple as 'no phones at the dinner table' or mindful eating will bring you and your family a lot closer. You will quickly understand why a simple life is better!
Embrace the mundane
When you commit to the journey of self-growth, you will see where life truly is – in the mundane and the ordinary. Life is in the things that we usually gloss over – from the car rides to school with your kids to washing the dishes as a family.
As adults, we're often living out our lives on autopilot. We've got a schedule set every week that rarely includes self-care or spending quality time with the people we love.
Our calendars are jam packed with things that will move the needle in our business, or a list of tasks we need to check off for work. But rarely do we carve out time to simply be still.
What's wrong with living in the moment?
We need to embrace the experiences and interactions we have on our journey to the grocery store, to the bank, or a walk in the park. Sometimes, the small chatter we exchange with strangers in public can be the highlight of our day.
It is in these simple moments and experiences that lie true happiness. When you learn to appreciate the smallest of things, you will learn how beautiful your life actually is.
Meditation
Feeling stressed out? Physical tension and mental stress are associated with each other. Try meditating or yoga and see how it leaves your body and mind connected, relaxed, and in a state of rest.
Living with ease is something we should all strive for. We should be cautious of what we consume, what we eat, and who we allow in our spaces.
All of these factors contribute to how we feel on a daily basis. Are you listening to negativity? Do you have poor eating habits that diminish your energy? How many positive people do you have in your circle?
Meditate and manifest the type of body you want. Be more aware of what you consume on the radio or television and cut negative people out of your life.
Spend time in nature
Is there a nice park or beach nearby where you live? Make a habit of taking a daily stroll there. It may sound cliché, but spending time in nature will help you connect with your inner self.
Take a breath of fresh air, away from the commercialized localities, and you will feel a sense of tranquility.
Start a gratitude journal
More often than not, we don't appreciate tiny moments of happiness and focus on the larger things in life. Start keeping a gratitude journal and write down all the things that you are grateful for each day.
This will help you focus on good things in your life even when things get slightly chaotic.
Declutter your spaces
Going to organize your place? It doesn't mean that you have to pack and store everything neatly.
It is more about getting rid of the things you don't need. Haven't used a thing in your closet for over a year? It's time to finally let it go.
If you want more tips on how to declutter your space for a clear mind, click here!
Take a little me-time
Throughout the day we are surrounded by people, preoccupied with what's next on our to-do list, or distracted by all the noise from the apps on our smartphones.
Initially, solitude can feel a bit strange and uncomfortable. However, as you slow down and spend some time focusing on self-care and your own wellbeing, you will be able to hear yourself more clearly.
There's nothing wrong with unplugging from the world and taking time out for yourself.
Take advantage of the quiet times that pop up when the house is silent by scheduling a little me-time. Start your day off right with a clear, stress-free, calm attitude!
IDENTIFY Things You Love
How do we find simplicity in life? Well, I'm glad you asked. We live a more simplistic lifestyle by finding things that we love. What are the things that you value most in life?
Do you spend your time doing things that you actually enjoy? Is the majority of your time spent around the people you love? Identify the relationships and things that are important to you and make them a part of your daily routine.
Eat Slowly
Poor eating habits stem from a lack of planning, which often leads to an unhealthy diet and unwanted weight gain. More effort needs to be put towards meal prepping and being more selective about the food we put into our bodies.
Treat your body like a temple. Nourish it with foods that boosts your energy. And furthermore, enjoy your meals. It's a daily pleasure not everyone gets to experience. You don't have to rush through your meals so that you can get back to work.
Take your time to savor the taste and properly digest the food that enters your body. Eating is a blessing – you have to slow down and enjoy every morsel of food that you eat.
Establish routines
Instead of just wading through the day, it's good to practice a productive daily routine. A healthy morning and evening routine will ensure that you not only get through the day, but you get through it in a productive and nourishing way.
Live frugally
Before you buy something, just take a small pause and think about whether you truly need it. That 5-second pause will be a moment of epiphany, as you realize that you don't actually need a lot of things you buy.
Write a list before entering the grocery store. Limit your spending habits at your favorite stores by doing inventory at home.
Do you really need that new pair of shoes? Or another designer purse? Probably not. Make a habit of purchasing only the things you need instead of what you want.
Downsize and minimize
Think you don't have enough room? You will be astonished by the amount of space you have when you start being more mindful about the things you bring into your home. More stuff isn't synonymous with more happiness.
Rather, you may find it easier to navigate through life when you are surrounded by a few important things. Decide what is worth keeping and get rid of the rest. Downsize and minimize people too!
Does your friend group need to shift? Should you be hanging around your coworkers outside of working hours?
Identify bad influences and toxic behaviors, so you can spend less time around them. You will learn the value of leading a simple life when you make the decision to embrace simplicity in life!
Say no to multi-tasking
No matter how bright and talented you are, you don't have to handle everything on your own, or even at the same time. Give yourself some grace and breathing space to say no to multi-tasking.
It's also okay to ask for help, outsource things you aren't the best at, or opt to work with a team. Focusing on one task at a time will give you better results, and a lot less headaches, trust me.
Go on annual retreats
You have to take time away from the whole world at least once a year. Leave your commitments behind and take a trip somewhere. It doesn't have to be luxurious or expensive.
A simple cabin in the mountains, camping in the woods, or a fishing trip will help you take a load off your back. It also presents the opportunity to learn or experience something new – a new skill or a new language, you decide!
The Art of Simplicity Living
If you want to live a much simpler, slower paced life, you have to remember that simplicity in life starts with you.
Take a look at the examples of simplicity in life that we have mentioned above and get inspired by these simple living books, and you will be good to go. Once we learn the value of simplicity in life, abundance and growth will follow!
Learn to live simple, goal friends! Start your simplicity living journey today by taking the 31-day simple living challenge. Download your FREE copy here!
I teach entrepreneurs how to simplify their life and business with less + own their time and maximize productivity towards their personal and monetary goals.