Boredom at home doesn't have to be a part of your new normal. After a year of social distancing, matching masks with your OOTD, and stocking our cabinets with hand sanitizer, the last thing we need to add to our daily routines are hours upon hours of doing absolutely nothing.
As concerts are postponed, all fun events are canceled, schools are closed, and tourist taverns are shut down, there isn't much we can do outdoors for entertainment. Being stuck at home isn't all that bad once you realize all the fulfilling and productive things to do when bored in quarantine.
This pandemic has offered us more time than we've ever had, time which we never expected we might get. This, out of the blue, time presents us with opportunities to be productive and do things that hold some value and meaning.
The Most Productive Things To Do in 2021
For those who struggle with weekly productivity, I've constructed a list of the most productive things to do during quarantine when you're bored out of your mind. Try a few ideas listed below and explore the fun stuff that brings joy and motivation to your life.
1. Watch a documentary series on Netflix
This activity is a potential trap. While watching interesting TV shows & movies on Netflix passes the time, it can also be very unproductive, and you might find yourself wasting the day away binge-watching series or movies that aren't worthwhile.
Consider investing your time in watching documentaries or shows to learn something about history, politics, climate change, cooking or unsolved mysteries (I love these!). Netflix offers great documentaries covering a wide range of topics, from sports to true crime to even filmmaking.
2. DIY your room
What to do when you don't know what to do? One of the most exciting & productive things to do on the weekend when you do not have any online classes, family plans, or errands is redesigning your room.
The best way to do this is by looking for aesthetic ideas on Pinterest for inspiration. Type in "DIY decor room," and you'll be amazed by the ideas this visual search engine offers.
I love using Pinterest for "farmhouse decor" or "grand millennial" inspiration. Mood boards for each room also works when you're renovating a fixer-upper.
Spend your downtime or weekend changing the way your room looks and feels, as change is a necessity for personal growth.
3. Plan a workout routine
Be honest with me, how long have you been waiting to get back in shape? How long has it been since you wanted to have a few abs peek through, or look a bit slimmer in your jeans?
If you haven't yet started taking care of your body, now is the time. To work out every day (consistency is key), you must schedule a workout routine.
You don't need a bunch of gymnasium accessories to do so either. There are various no-equipment home workout videos available on Youtube for free.
4. Meditate!
Meditating is just as essential to being mentally stable as you are physically. Meditation will help you be at peace in times of uncertainty.
It is very important to be mindful of your environment and wellbeing in quarantine. Mindfulness meditation is a great way to easily reduce stress and practice being present and living in the moment.
Find a quiet room in your home where nothing and nobody could possibly disturb you.
Light some incense sticks or candles, play some soft therapeutic music, close your eyes, and think about everything your mind allows you to. Discover your thoughts and explore your imagination.
5. Read a book
Picking up a good book to read always makes it to the top of the list of productive things to do when bored, but why is this?
Books that exercise the brain, build our vocabularies, enhance the imagination, and lower stress are worth the appreciation.
There is nothing more beautiful than literature in the entire world, and stimulating our brains with a turn of every page.
Immerse yourself in a book, dive inside the depth of it, its characters, and storyline, without any distractions. No matter what you prefer, fiction or nonfiction, borrow or buy yourself some books and start reading today.
6. Write a bucket list
Now that you have some time to yourself be proactive about your life and create a bucket list. Where would you like to be five or ten years from now? What are some of your long-term goals?
I love to revisit and check the progress towards my personal goals, because it gives me reassurance that I'm being productive with my time, even on slow days when things are a little less hectic.
Surely you have places you'd like to visit, milestones you'd like to meet in life, or personal growth you'd like to see.
Create a bucket list, write a letter to your future self and stick it in a time capsule. It's one of the most productive things to do when bored in quarantine.
7. Make a traveling scrapbook
Growing up one of my dreams was to travel the world. I love sightseeing, venturing to new neighborhoods, and visiting places I've never been.
Every trip I take, whether it's domestically or internationally, I take a piece of the place with me by taking photos, buying souvenirs, and experiencing their culture with the locals.
Small things you can take with you or add to your traveling scrapbook are postcards, restaurant menus, refrigerator magnets, teacups, and uniquely patterned garments.
These things aren't meant to add clutter in your home, but hold sentimental value that trigger memories you can share and reminisce about with loved ones for years to come.
Download photos from your digital camera or phone onto your computer and print them as polaroids to include in your scrapbook.
8. Digital declutter
To no surprise, this is a task that always gets pushed to the bottom of the priority list. In all honesty, it's not that fun to do and can be a bit tedious, but it's certainly needed.
Email inboxes get obliterated with junk mail, too many photos take up our device's memory, and the files we haven't used in years simply need to be deleted.
Empty the trash, it's perfectly okay to let go of those documents collecting dust and taking up space on your desktop. Digital decluttering is beneficial for technology preservation, privacy, and security.
Clearing out browser extensions, updating passwords, auditing apps, organizing file folders, and updating social media notifications are just a few productive things to do in quarantine.
9. Create a mood playlist
Podcasts and television don't always cut it when you're in a mood to relax, escape, or simply reflect about life in general.
What if you had a playlist in handy to match every mood? Spotify allows you to create an unlimited number of playlists for free with every single genre of music at your fingertips.
There's even instrumental music for yoga sessions and sounds of nature to listen to when you're in need of a soothing melody to lull you to sleep. Some of my favorite music is in different eras, early 2000s and 90s to be exact.
I have go-to playlists with pop, soul, and R&B artists that were already compiled and easy to save.
On Spotify you can share your playlist with others, so if you don't really feel up to creating your own to match your mood, there's a vast selection to choose from.
10. Update your career portfolio
Thinking about getting a new job, switching fields, or starting a business, what better time than when you're bored at home to get your credentials in order and update your resume?
Do you have samples of your work to display or recommendation letters to collect? Transfer these documents into a digital portfolio and put yourself out there.
Create a website or use Canva to showcase your work in a creative way. This will help you to stand out among the crowd and be more competitive in your field of expertise.
If you don't have as many transferable skills as you'd like, use Skillshare, Coursera, or Udemy to take a free or paid class online.
Enrolling in an online class to learn a new skill or hobby is one of the most popular productive things to do when bored online.
11. Take a personality test
The enneagram personality tests are officially taking over and I'm here for it! Everywhere you look on social media everyone is boasting about their enneagram type, why not add to the conversation?
Reading up on my enneagram type is one of my favorite productive things to do online. Identifying personality traits that match with my enneagram type is pretty interesting.
Learning about the nine different types and wings can take hours. I always fall down a rabbit hole when I'm researching enneagrams and the different in depth behaviors.
I've even taken the test a few times to see if I obtain different results just for fun. The next time you have some spare time throughout the day, take the 15-minute test, you'll definitely be entertained.
Productive Things To Do When Bored at Home
Now is the best time than any to relax, unplug from the social media world, and try new exciting things. Below I share some general activities that are productive and can also cure you of boredom.
Creative Things To Do: Grab your sketchbook, prepare your table with color pencils, paint brushes, ink pens, glue sticks, and other craft accessories, and pour your heart out on a piece of canvas. Draw or paint whatever your heart desires to tap into that creative side of you.
Invest in Self Care: Research DIY face masks that make your skin glow, homemade hair serums, refreshing skin solutions on Youtube, and embrace self-care. Most of the ingredients needed in these concoctions and remedies are all natural and can probably be found right in your cabinets at home.
Write in a gratitude journal: When you try new things every day and invest time in exciting activities, you will always have something fun and interesting to write and reflect about at night.
Writing journal entries shouldn't feel like a chore. It isn't a requirement that you must write in your diary everyday, but you can note the things you are grateful for or use it for a daily brain dump when you're feeling distracted. The five-minute journal is structured with various journal prompts that will instantly boost your happiness throughout the day.
Spend time with your pets: If you have pets in your house, play new games with them, keep them active by walking them around in the backyard, groom them, train them, and form an even stronger bond.
Learn a new language: Spanish, Italian, and French are sexy languages to learn! T'as de beaux yeux, tu sais? (Translation: You have gorgeous eyes, you know?). There are plenty of ways to learn a new language. You can take the first steps by downloading the Duolingo app or completing a few lessons with Rosetta Stone.
Purge your closet and drawers: The accumulation of things you no longer have use for can be a pain in the you-know-what. I used to open my closet and a feeling of overwhelm would quickly take over me.
I have clothes with tags on them and shoes still in boxes that I've never worn. Old shoe boxes and bags of clothes covered the floor, and searching for something new to wear was an entire headache in itself.
Don't let this happen to you. Make a habit of separating your clothing by season, and do a purge once a month to keep your wardrobe well-kept and organized.
Productive Things To Do Online
Your location shouldn't dictate how productive you are. Whether you're stuck at home, at the office, or aimlessly browsing random sites online, you can still be productive anywhere you are.
Being on the Internet is not a waste of time until all you're doing is scrolling through Pinterest, Instagram, and Facebook feeds.
There is so much more to the internet. Check out a few productive things to do online below!
Google Street View: Have a sudden itch to backpack across the globe, but you don't have the money, time, or friend group to tag along? Google Maps can bring the world to your feet instead.
Go to street view, search for your desired location, and you'll instantly be transported there with a cool 360° view. Explore glaciers, penguins in Antarctica, wander through the ruins at Machu Picchu or even dive into the Great Barrier Reef.
Watch Movies: Binge-watch all the movies you saved for later. When you're on Amazon Prime or Netflix build up your watch list and revisit it on your laptop later.
Learn Music: Take online classes on guitar-playing or learn to strum the ukulele. You can even watch tutorials on Youtube to play your instrument of choice professionally.
Video Calls: Use FaceTime, Google Hangouts, Skype, or Snapchat to video chat with family or catch up with old friends.
Letters: Other than video calling, a great way to engage with a significant other or elderly family members is by writing them a letter.
There's something about reading a letter specially written from someone dear to your heart. They're authentic and heartfelt. Add a special touch with photos, stamps, and cutesy artwork to make the handwritten letters your own.
What you ultimately decide to do during your downtime is your choice, but there are plenty of productive things to do in quarantine.
Now that you have a few ideas, save this list to the notes application on your phone, and pull it out whenever you feel like dozing off or resorting to social media for leisure.
You no longer have to be bored out of your mind; get crafty, be resourceful, commit to trying new activities, indulge in self-care, and use your time wisely!
Tired of being unproductive with your time? Create a new system of daily routines. Download a copy of the daily routine printable to help you get started today!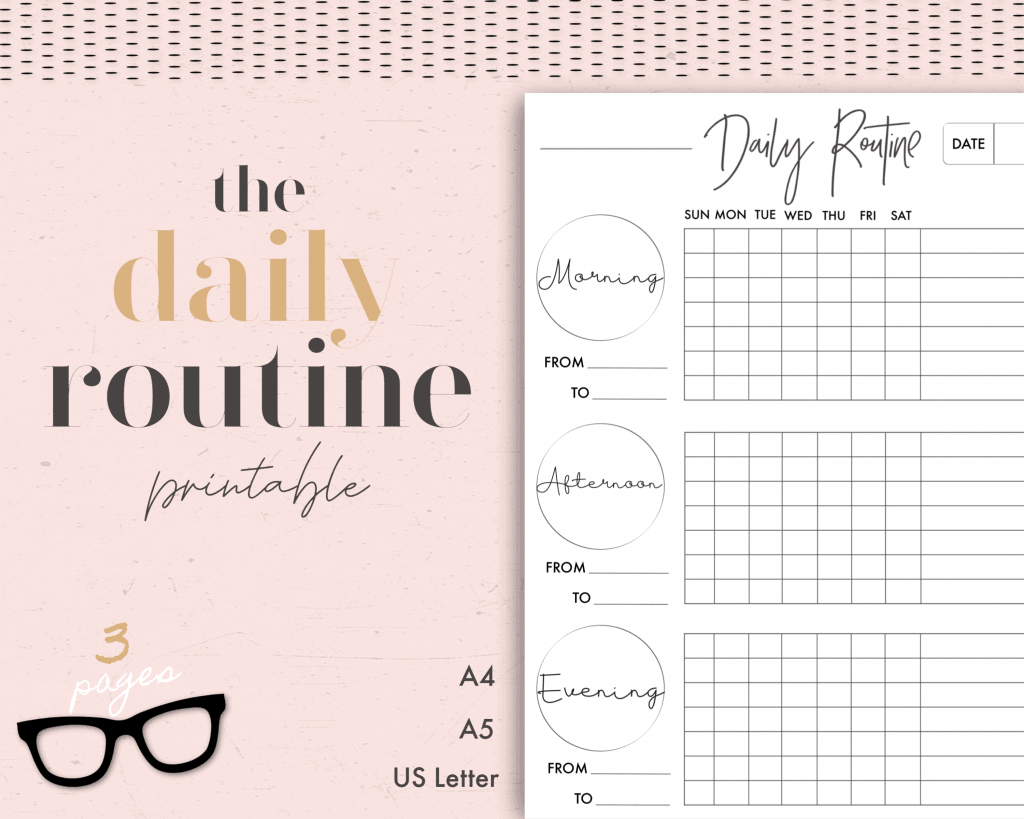 I teach entrepreneurs how to simplify their life and business with less + own their time and maximize productivity towards their personal and monetary goals.