Do you know how to plan for a new month?
If not, I have a few easy hacks and techniques I'd like to share to set you on the right track.
Foremost, I always feel encouraged at the start of a month. It gives me the opportunity to refresh mentally and reset my goals for the upcoming weeks ahead.
Think of it as having your bank account reloaded with funds on the first of every month.
Our time to refocus on new goals gets replenished and we get to leave any mistakes, failures, and habits of procrastination behind.
Don't take that baggage with you into the next month.
Now let's get into the good stuff!
How do I prepare myself for a new month?
Self-Reflect
The easiest thing you can do to start the new month off right is self-reflect.
What do you need more or less of? The answer to the questions below will vary based upon your strengths and weaknesses.
Do you need more or less down time?
How disciplined were you in completing your daily priorities?
How often did you use a planner or a list to structure your day?
What distractions are hindering your productivity?
Did you achieve any of the goals you set?
Self-reflection helps us to be more intentional about the monthly planning process.
You must assess where you are and acknowledge the mistakes you made, so you won't trip over the same things in the future.
When you're aware of your disadvantages, you can create an environment that you'll thrive in.
Set Yourself Up For Success
Knowing how to plan for a new month isn't as easy as it may seem.
Some people hop into a new month with no plan at all.
They hope for the best and continue with the same poor habits that impeded on their success months before.
The environment and energy around you matters.
Think about it. How productive are you when your workplace is toxic?
You're not as successful as you would be in an office where you feel supported, motivated, and not bogged down with endless tasks.
The same rule applies to your personal life.
Refer to the list of things from your self-assessment that held you back the month prior.
Are strenuous relationships affecting your ability to focus? Do you benefit from a healthy work/life balance? How often do you receive support from those around you?
Ask yourself these things before you plan for a new month.
Sometimes, there are quite a few things you may need to change to yield a different outcome in the month ahead.
If you don't enjoy working alone, find a productivity group or accountability partner that will encourage you to complete daily tasks.
I enjoy completing my workday at coffee shops rather than at the office. I get to listen to music, people watch, and smell the aroma of baked goods while I work on my projects.
When I leave, I close up my laptop for the evening and go home to focus on self-care and spending quality time with my family.
The slightest change in your environment and the people around you can make a world of difference with meeting your monthly goals.
Use A Planning Tool
No, you don't have to use a monthly planner if you don't want to.
The 'planner community' may disagree with me, but you don't need a fancy, expensive planner with buttery pages and pretty graphics to schedule out your day.
You just don't.
The most productive I've ever been while learning how to plan for a new month was by using basic sticky notes.
I kid you not, goal friends. I originally heard about the technique from Myleik Teele's My Taught You podcast and it's a hack I've used ever since.
Write only five daily tasks on colorful sticky notes and place them around your home or office where you can see them often.
The bathroom mirror was my go-to.
I arranged each task based on the level of difficulty and effort they required.
With that being said, I still use planners. No, I have not ditched them completely, and probably never will.
I use my planner at the start of a month to plan my goals, but I don't lug it around with me everywhere.
Believe it or not, sometimes, list building on a plain sheet of paper is enough. I'm a stationary fanatic for this very reason, you guys.
Now. Will you need to revisit your goals frequently to ensure the action steps you're taking lead back to your primary goals?
Yes, ma'am! But planning doesn't have to be a daunting, mundane process, which is why I encourage everyone to make it unique and fun.
Check out some of the planning tools I use on a monthly basis:
White board
Sticky notes
Productivity apps (Asana, is my jam!)
Notebook paper
Weekly and daily planners
Calendars (desk planners)
Digital planners
Bullet journals
Find Time To Plan
Want to know one of the most important tactics on how to plan for a new month?
Actually, take time out of your day to create a daily plan. I know this sounds like common sense, but we all know how hectic the day can get and how fast it can get away from you.
For all my ladies who work full time and have children, sitting down to catch your breath alone can be a feat.
Daily planning needs a slot in your weekly routine just as much as self-care breaks.
Which tasks can be moved to the following day? Do you fair better planning at the top of the week or at the end of each day?
Since I juggle several priorities at once, I prefer daily planning.
It's imperative that you allow enough time in your schedule to plan your next day. The last thing you want to do is throw a few leftover tasks on your to-do list with no direction or intentions behind them.
Pick a space in your home to collect your thoughts. Try to select an affirmation or two to meditate on. Complete a few journal entries, then select one important goal you'd like to reach.
How do you set goals for a new month?
If you want to be effective when you're learning how to plan for a new month, start with goal setting.
Goals should be at the forefront of your monthly planning strategy. They provide clarity on things we need to focus on for 30-31 days.
It's best to keep your goals SMART and brief. In other words, don't try to jam pack all your goals into one month.
It's great that you have confidence, but please be realistic. Don't bite off more responsibility than you can chew.
Set realistic goals. This will help you reach milestones in the time allotted without burn out to accompany it.
I recommend selecting only 2-3 monthly goals then hyper focusing on the steps you'll take to achieve them.
Outline what you need to do each week that will move you closer to the finish line.
What activities do you need to eliminate from your daily routine that will help you zero in on your goals?
If you don't have enough time, then make more time.
You may have to sacrifice some of your leisure activities at some point.
This doesn't mean you can't indulge, but you can skip a few girls' night outs, Sunday brunches, and do date night once a week rather than three instead.
I guarantee doing so will help you move the needle in your business. In addition, cooking food at home will be healthier for your diet, and limiting how often you go on dates temporarily won't break your relationship.
Remove anything that's not pushing you forward and causing you to remain stagnant.
Divide your goals into different areas of your life. No, you don't need a monthly goal for each sector.
Remember that you only have thirty days in a month. Choose and set your goals wisely.
What type of goals will you select to plan for a new month?
Personal
Career
Health
Mental
Spiritual
Financial
If you only want to focus on your personal goals for the month, then do that.
There's no right or wrong way to set goals for a new month.
In fact, it may be better to pick one area of your life to focus on setting goals to start.
Let's say you'd like to focus on building your career.
Some goals you set may include learning a new skill, attending a conference, applying for a new job position, and/or writing a business plan.
I just shared four primary goals you can focus on for the upcoming month.
What steps will you take to achieve them? Outline them in your monthly plan.
How can I make a monthly plan?
Start by completing a brain dump activity. 
This will help get all the thoughts out of your head and on to paper.
Consider your current schedule, workload, and mental health – what do you have room for?
Is your plate full? If so, what can you remove from it? What action steps can you use as a substitute?
Follow the simple step-by-step plan below to develop your monthly plan:
Grab a calendar and pencil in important appointments, events, and special dates
Create a list of what you'd like to accomplish for the month
Write 2-3 goals and assign them to each week. If they are likely to carry over, write them down again
Include your action steps in your daily priorities. This will help you stay on track with your goals
Schedule a time in your day for reviewing your planner notes and completing a daily to-do list for the next day
Once you get the hang of how to plan for a new month, you'll know these steps like the back of my hand.
Why is learning how to plan for a new month important?
At the top of the year, everyone is adamant about surpassing milestones and achieving their yearly goals. Those without a monthly plan tend to fail.
It's easy to create a scroll of goals to meet within 365 days, but actually executing them is a different story.
Time flies by pretty fast. Most people struggle with procrastination or get sidetracked by life and their goals are the first thing to fall by the wayside.
A monthly plan helps to keep you on track while recalibrating your focus as needed. Will you meet every single goal on your list? Maybe, maybe not.
There shouldn't be a rush to meet all your life goals in twelve months, but it's important to have a road map that will lead you in the right direction.
How do I organize my monthly weekly planner?
I'm sure most planner girls will tell you they have a preferred planning method.
Some enjoy monthly planning while others prefer 90-day planning in quarters. 
I prefer planning my year out by the quarter. Thinking ahead is great, but I like to give myself flexibility to pivot on my goals if I need to.
Vertical versus horizontal planning is another preference avid planners may have.
While I'd like to visualize my week planned out vertically in time blocks, Washi tape, and cute stickers for the aesthetic look, I'm a heavy writer.
I prefer to write out the details of my day. Horizontal planning provides me with just enough space to do so.
For those who don't use planners at all, there are digital apps that will keep all your daily plans organized and in one place right from the palm of your hand.
Digital monthly planners have become popular over the past few years for those who prefer digitization over paper.
Organizing a monthly planner can be effective as long as you're not using all the different methods at once.
List makers shouldn't be using loose scraps of paper or relying solely on sticky notes either. Designate one notebook for planning out your month so that you can refer to it frequently. 
You can get started on your monthly planning journey by using a basic printable. One of my favorite planning tools is the Daily Routine Planner printable.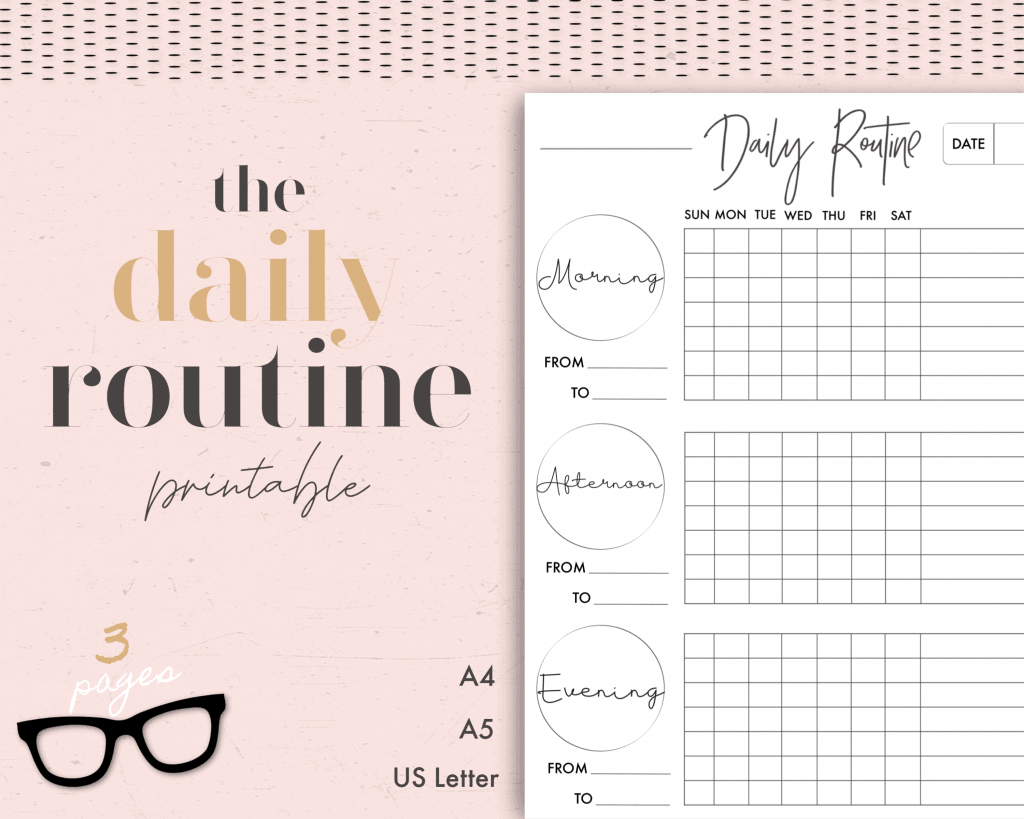 Download yours today!
What strategies do you use when planning for a new month?
Leave a comment below!
I teach entrepreneurs how to simplify their life and business with less + own their time and maximize productivity towards their personal and monetary goals.