How can I get my life together in a week?
Don't believe it's possible to reset your entire year in less than a week? Let me show you how to get your life together so you can stop spending time in the dumps.
But first, I'm just going to go ahead and outright ask the dreaded question you've been secretly asking yourself this entire year to not hold yourself accountable. Have you achieved any of your goals?
Remember the ones you set back in January then revisited in March? Or those personal and professional goals you've been meaning to set but never got around to them? Yeah, those….
Either way, you still win. Do you know why? Because there's always room to start over and there's always time to begin again.
Sometimes, sitting down, and simply brainstorming how to get your life together is the first step. And if you've already done so, that's even better.
Focus on the goals you've already reached and celebrate the short-term wins for now. And yes, you can accomplish all of this, in seven days or less.
How to get your life back on track?
Setbacks in life are inevitable, but you don't have to wait forever to reset your goals and get your life back on track. Once you decide to commit to achieving them, create an action plan, and regain control again.
Believe it or not, you can do this in seven days. Seriously, one week to do a complete three-sixty.
It's absolutely possible to reset your year no matter which quarter you're in as well. If you're unsure of how to get your life together in 2021, follow the 7-day action plan I've outlined below and throw in a few curve balls that work best for you, too.
How do I start fixing my life?
Day 1
Assess what's wrong and what could be better.
You can ask yourself what's going wrong, but discussing it with a close friend, family member, or significant other may be best to get their feedback. Sometimes, digging deeper into the intimate details is a must.
If you don't feel comfortable sharing your feelings with someone you know, schedule a counseling session with a certified therapist.
Talking with someone to express your true feelings can feel like a weight lifted off of your shoulders when you receive the encouragement and additional opinions that allows you to see your issues from a new perspective.
Maybe procrastination is preventing you from achieving your goals. Don't worry, you're not alone. Procrastination affects all of us.
When I have multiple responsibilities to juggle, I procrastinate to avoid completing difficult, time-consuming tasks. A potential solution to this is journaling daily to track your progress and identify tasks where you get stuck.
Some people also struggle with being overachievers. If this affects you, take a step back to reassess your accomplishments and what you already have achieved.
There's such a thing as doing too much too soon. Don't fall into the trap of always needing to move the goal post. Celebrate your wins now and be grateful for your rewards. We should reflect on our gratitude daily.
Consider writing an outline or list of all the areas in your life you'd like to improve. Don't go back to the list of old goals just yet. There's a chance a lot of things may have changed.
For instance, where are you on that weight loss journey? How often do you take time out of your day for self-care? What other areas of your life need a bit more tender, love, and care?
Consider creating a get your life together checklist, similar to the one outlined below. Your categories may look different from mine, but I've provided a few examples of questions you can reflect upon on the very first day of resetting your year.
Write out a list of categories to reflect on your life as it is right now. Assess what needs to be changed and what can remain the same.
Fitness – What lifestyle changes do you need to make in order to meet your fitness goals? What is prohibiting you on your weight loss journey? Assess the 'why' of your goals and develop small habits that will enable you to reach them.
Productivity – Does your time management need improvement? Are you overwhelmed or shackled to a 'to-do' list? Where are you lacking productivity – at work, at home, in your business?
Relationships – Are you present mentally when you're around your friends, family, or partner? Are you setting aside time to spend with your loved ones?
Goals – How often do you revisit the goals you've set for yourself? Are your goals realistic? What specific action steps will you take to work toward them?
Self Care – How many times a day do you check in with yourself? Do you need to love up on yourself more? In what ways are you eliminating daily stressors in your life? Identify the people, things, and activities that uplift your mood.
Rest – How many hours of sleep do you get every night? Are you taking time out of your day to do the things you enjoy? Do you have daily routines in place that will slow down and simplify your day?
Day 2
Talk with someone to express your feelings.
Sometimes, we need to get things off our chest and need a shoulder to lean on to do so. Talking things out with friends or family members can help us gain a new perspective, which may lead to better choices or resolutions for our problems.
Getting therapy is also a great way to learn how to get your life together after depression. If you don't have someone you trust or can confide in, there are professional therapists who can step in as an ear to listen and guide you in the right direction.
And if you're not ready to be open with sharing your experience or taking advice from an outside source, that's completely fine.
Journaling is an option to release all of your thoughts and feelings onto paper to revisit later. Meditation and mental decluttering are great practices that allow you to focus and minimize distractions throughout the day.
Focus on goal setting.
Revisit the goals you set at the beginning of the year. Before breaking them down into action steps you need to make sure that they are SMART goals first.
What do I mean by this? SMART goals is an acronym and set of criteria that ensures your goals are focused, objective, and can be met within a certain amount of time. S-M-A-R-T stands for specific, measurable, achievable, realistic, and time-bound.
According to Atllassian, a S-M-A-R-T goal entails working through the five criteria to build a measurable goal that encompasses exactly what needs to be accomplished and when, and how you'll know when you're successful.
Identify which goals you have accomplished, if any, and which goals you've failed to reach. Readjust your strategy by limiting the number of goals you'll need to hold yourself accountable for the rest of the year.
Also, reward yourself by picking your goals back up again and progressing along the way. Find a business bestie to take on the journey with you and leave procrastination at the door.
Day 3
Walk in your purpose.
Although many people identify with their jobs, we are complex beings that aren't only defined by our careers. If I asked you who you are and what you enjoy doing outside of work or your business, how would you answer?
Think about the impact you make on your loved ones, in your community, and the surrounding environment. What were you put on Earth to do? Do you have a mission and vision for your life? And if you do, are they aligned with your goals?
We need clarity before we can yield any results. Therefore, identifying your purpose and the motive behind the things that you do is important.
Determine what you're truly passionate about by participating in a new hobby, indulging in your current interests, and paying attention to how you feel around people in proximity to you.
Do you have healthy friendships or an active social life? We weren't created to do life alone. Join a community or social group that will provide you with a sense of belonging.
Dig a little deeper into your soul. At some point, we all need to commit to a lifestyle that reflects our values and belief systems. We can do this by reading the bible, selecting mentors, or dedicating our time to grow spiritually.
Day 4
Lend a helping a hand.
Relationships and friendships can be hard. Some thrive in this area of life, I know, but there are plenty of people who feel like connecting with strangers, finding love, and fostering friendships is an uphill battle.
Relationships are investments that require time and energy. But when you're spread pretty thin already, you hardly have time for yourself.
Time gets away quickly during the week, which only leaves the weekend to recharge and regather ourselves for the week ahead.
It's an endless cycle of living life on autopilot.
Use this day to take a step back and slow down. How do you envision your life years from now? Is there an elderly family member you can schedule a visit with or an old friend you haven't checked in with for a while?
Pick up the phone and call them, or better yet, send them a card to let them know you're thinking about them.
Plan a weekly date night with your spouse or significant other. Find an organization and volunteer, often.
Kind gestures go a long way with the ones we love, but the best way to get your life together is to take the focus off of yourself and help others.
Day 5
Establish boundaries.
Watching everyone around you enjoy life while yours slips away is something you're bound to regret. If you struggle with comparing yourself to others, self-isolate and detox from social media for a while.
The only person you should compete with is you.
How can I become a better version of myself? Make a habit of asking yourself this every single day.
Strategize how you will work on your inner self by breaking bad habits and feeding your soul. What poor behaviors or unhealthy addictions do you need to delete out of your life?
Read self-help books on how to declutter and simplify your life. Try this list of simple living books I highly recommend here!
Also, assess the toxicity in your life. No one wants to deal with negativity that will only contribute to added stress and worrying about things that are none of your concern.
Be honest and open with your loved ones and friends about your capacity to receive heavy information. You're not a dumpster they can unload all their emotions on whenever they please.
Don't be afraid to have those tough conversations with friends. They're needed to set boundaries. Getting your life together is a process. Take the steps you need to grow.
Day 6
Identify a career path.
Align your career goals with your passion. Challenge yourself to sit down and think about your long-term goals. Create a vision board to get a clear picture of where you'd like to be in the next five years.
Come up with a few milestones you'd like to hit soon and break them down into a list of short-term goals then take a step further and divide each goal into action steps. These can be both personal and professional.
Would you like to make a career change or improve your skill set in order to move up in your company? Maybe you don't enjoy your job, but need to keep it as a primary source of income.
Think of a hobby you genuinely enjoy and brainstorm how you could turn what you love into a business. Research how to write a business plan or at the very least work on your passion every single night.
Day 7
Take a break or two.
Rest. Yes, you read that right. Give yourself grace to do absolutely nothing.
Sometimes, we need to just turn down the noise. Scheduling personal time to reconnect with ourselves and check-in with our feelings is a great way to reset. Practicing yoga and meditation may help you center yourself and assure that you're fully aligned mentally and physically.
To be honest, I typically designate Saturdays to splurge on myself. I'll take a trip to my favorite retail store, catch a new movie or play, visit a new restaurant, give back to the community, go to the Spa, or I'll take the day to catch up on a few z's.
But if you prefer to be more active, take part in an activity that you never tried before. Whatever that may be, no matter how weird or risky. Take a leap of faith and have some fun.
Before the day is over give yourself a reward. Grab your favorite dessert or indulge in a guilty pleasure (hey, as long as you're not harming anyone, have at it).
One of my old guilty pleasures was binge-watching seasons of BRAVO's Real Housewives of New Jersey franchise. I would sit for hours catching up on the series.
With that said, stop being so hard on yourself. Get your life together, goal-friend, but cease the day, too!
At what age should you have your life together?
Life is unpredictable. We can't predict what will happen in the next hour, but we can certainly prepare for the inevitable blows we're likely to be dealt.
We never know when we're going to lose our job, experience a breakup, or lose a loved one. We're rarely forewarned when the worst happens in our lives and it sucks.
The best thing we can do is create buffers we can fall back on by building a hefty savings account, being whole as an individual, and not codependent on others emotionally.
There is no blueprint for life we can follow when brought into this world, but we can learn from the mistakes of others.
I've avoided making so many poor decisions by listening to my elders and observing the outcomes of people who made similar decisions around me, which ultimately, made me choose a different path for my life.
If we could map out our lives to where we'd like to be by an appointed age, then we'd all be living with ease. Realistically, this won't ever happen, but we can create a better life for ourselves and our families by working hard in the present.
We can easily follow in the footsteps of high achievers, but it's unlikely that we'll yield the same results. Carving out your own path is important.
You never know what others have done to get to where they are; we're only privy to what they've chosen to share.
Challenges come to only strengthen us, so I encourage you to embrace them and learn from them.
Grieving family members we've lost is a part of life. You can be up one moment and down the next at any age or stage of your life. Therefore, resiliency is key.
How well can you bounce back? Are you growing and learning from your experiences to deal with the next hurdle that may send you off course?
Think about these things when you're feeling down and out so you won't make any rash decisions you may end up regretting later.
How do I start life over with nothing?
Follow the seven-day action plan to reset your year. If you're unsure of how to get your life together after depression, seek professional help. Depression isn't something we can always control. It can creep up on us when we least expect it.
However, there's always a light at the end of the tunnel, just don't lose yourself in the darkness. Use resources for depression that are available to you online and in your local area.
Try these five steps to combat depression from rearing its ugly head in your life. Adopt an abundance mindset and view things from a glass half full perspective.
As long as you know that your life is full of love, positivity, and hope, there's no way you can ever feel empty inside.
Make a change for the better and start over with a simple lifestyle as you work towards creating a life filled with ease. And just in case you need a guide for more productivity throughout your day, download 'The Side Hustle Planner' today!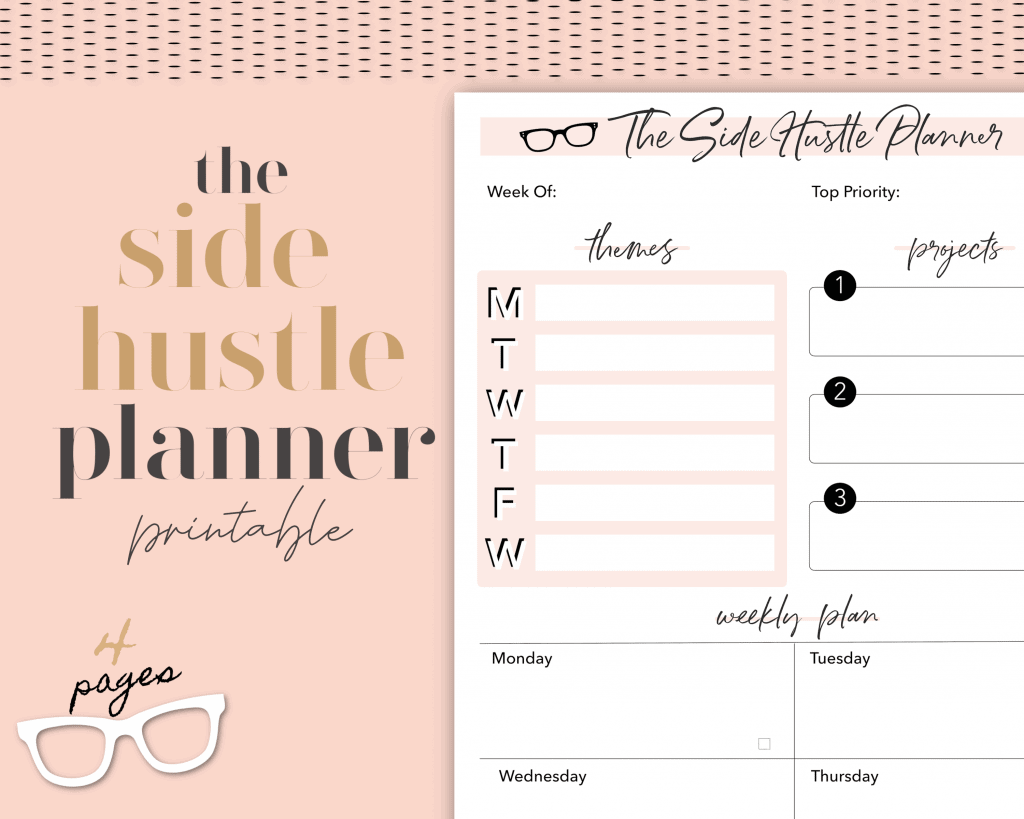 I teach entrepreneurs how to simplify their life and business with less + own their time and maximize productivity towards their personal and monetary goals.