Have you ever spent most of your weekend dreading work on Monday and the daunting tasks you need to complete?
Well, 'Monday night scaries' aren't anything new. We've all been there as working professionals and stay-at-home moms. We want 3-day weekends and hate Monday mornings.
Once Monday comes around, we can't wait until Friday. That's not a good way to live, but it's a reality for many Americans.
That's why developing a Sunday night routine is important. It helps jumpstart a productive week and allows us to decide which social, personal, and professional goals we'd like to meet the following week.
How can we lead purposeful lives when we're physically exhausted, and our brains feel like mush?
If there's one weekday we can dedicate to being intentional, why not a lazy Sunday?
Set yourself up for success by being productive on the very first day of the week.
My number one recommendation to maximize your weekly productivity is to plan, plan, plan… then plan some more.
Decide on three top priorities you'd like to include in your Sunday night routine, whether it be weekly planning, relaxation, or socializing.
All three are a great start.
You can reflect on the outcomes from the week before; try out different ways to relax your body and mind; and take part in social activities that will help you build new relationships and connections with others.
What is a good Sunday night routine for a productive week?
Plan your week
This is where your nifty planner will come in handy. Plan your day down to the very last minute if you can.
You don't have to be tethered to your planner or a to-do list you develop, but some structure to your day is better than having no structure at all.
Remember, nothing gets done unless we make time for it. This includes any events or tasks that need to be scheduled for school, social gatherings, personal appointments, work-related events, or chores to complete around the home.
If you ask anyone who is extremely successful, they will never tell you it occurred by happenstance. They definitely developed a plan and executed it.
Get in the habit of planning your week ahead to make progress towards your goals.
Plan your work days
One rule of thumb I live by is keeping my work and personal life separate.
Setting boundaries is very important to me, which is why I use two different planners to organize my professional and personal life.
I plan my monthly calendar out in advance to give me peace of mind.
I pick at least 5-6 tasks to complete daily. Some include my work projects and/or day-to-day responsibilities that I focus on completing each day.
If I'm unable to complete or check tasks off my list because of other priorities, I move them over to the next day.
I do not jam pack them in or try to catch up on work during the weekends.
As long as you're employed, the work will be there. It literally never goes away. Do the best you can within the 8 hours (or less) required of you at your job. Take short breaks in between every 1-2 hours of your focus time.
Take the full hour for lunch and select a time for a hard stop that will allow you to prepare for the following workday.
Also, limit volunteering to stay after work for projects or events that will interfere with familial obligations or alone time with friends or your significant other.
Prioritize the things in life that matter most to you and don't log in to check your email on the weekends.
Home Care
Creating a weekly cleaning schedule should always be a part of your Sunday night routine.
Keeping our homes clean isn't something we can neglect or not plan on our calendars throughout the week.
What chores do you need to include your evening routines to keep your home spotless and free from odors?
If dogs are a part of your family, they can be a huge responsibility, too. Feeding, washing, training, and taking them out for walks can be a lot for one person.
Make sure you're including your furry friends as part of your daily routine. They have to remain fit, healthy, and happy, just like you.
Relaxation
If you could dedicate a full 24-hours to relaxing, which day of the week would you pick and why?
Sundays are the perfect day to kick back, relax, and do whatever you want.
Doing absolutely nothing is completely fine, too. My favorite day to sleep in is on Sunday.
I get to focus on my hobbies, do Sunday night reading, take part in leisure activities, take time out to talk and text with my family and friends, and watch a few movies or two.
I get to reset my goals for the week and recalibrate on where I'd like to be. I not only relax and love up more on myself, but I also use Sundays to reflect and show gratitude.
To clear my mind, I do a few brain dumps for different areas of my life. Journaling allows me to get my thoughts down on paper and put things into perspective.
I enjoy Sunday brunches and book clubs in the afternoon. As an introvert, socializing can drain my energy, but I choose light activities that will provide me with stimulating conversations and entertainment.
Sunday dinners have been a staple in my family for decades. It's the largest 3-course meal of the week, and the dishes are hearty yet healthy at the same time.
When I sit down with family, my body feels energized and ready to take on whatever my work week holds.
Get More Rest
What's a lazy Sunday without plenty of rest and re-hydration?
Our bodies need to be fueled with water. I use this jug that fits perfectly in my cup holder and it stays cold for 24-hours straight, sometimes, until the very next day.
I try to finish at least two jugs full to drink at least 8 gallons of water for the day.
You can also use Sundays to limit your use of social media and being distracted by the lives and perspectives of others.
Scaling back on my social media usage and the 'infamous scroll' on various apps gives me more time to rest and read.
When you eliminate the background noise from your Sunday night routine, you can focus more on what matters.
Whether it's relaxing your mind, meditating, or getting in a few more extra hours of sleep with an earlier bedtime, resorting to a quiet evening with no interruptions can lead to a highly focused, productive week.
5 Sunday night routine ideas
In case you aren't sure what to include in your Sunday night routine for a productive week, I've curated a list of ideas to get you started!
Grooming
Hair wash day
Scalp massages
Deep conditioning
Manicure and pedicure
Body brushing
Self care baths
At home facials
Meal PrepARATION
Weekly Plan
Planners
Bullet journals
Notepads
Leisure
Choose a weekly read
Meditate in the morning, attend church, or engage in activities that will help you grow spiritually
Do yoga or Pilates
Visit family or an old friend
Catch up on a TV series
Clean Up
Select rooms in your home that you'll clean throughout the week
Create a cleaning schedule
Do laundry
Change bedding
Vacuum carpet and rugs
Mop floors
How do you enjoy a lazy Sunday?
A lazy Sunday doesn't include work, heavy lifting, running errands, or being at the beck and call of your family members and friends.
If you have little ones, you may not get the entire Sunday to yourself until they're older, but you can still enjoy a lazy Sunday as well.
Block off a few hours to put the 'do not disturb' sign on your door. Make it a habit every Sunday so that other members of your household get used to your lazy Sunday routine.
How you decide to enjoy your Sunday is ultimately up to you.
Will you pig out on the couch? Binge watch a few Netflix shows? Catch up with a close friend or snuggle with your significant other? Or finish an arts and crafts project?
As long as you are taking the time to do exactly what brings you happiness with little to no interruption, then Sundays are yours for the taking.
Sunday morning routine
Breakfast in bed
Sleep in an extra hour or two
A long, hot shower
Spiritual guidance and meditation
Reflect on the previous week
Sunday afternoon routine
Go for a walk outside or hike, enjoy nature
Close the kitchen, go to brunch with a friend (no cooking)
Work on a hobby, side hustle, or personal interest
Do laundry
Shop for groceries, meal prep, cook a light, easy dinner
Sunday night routine
Mindful eating
A healing bath
Body massage
At-home facial
Answer journal prompts
No social media, TV, or gadgets in bed
Glass of water
Read books
Sunday night routine for school
When I was growing up, Sunday nights were always eventful and hectic.
My mother used Sundays to cook, clean, and prepare our clothes for the week.
She always made sure her children had a hearty meal to eat, picked us up from sports practice in the evening, watched ABC specials and Lifetime movies just for her to be left with little to no time for herself in the end.
I always advocate for mothers to solicit the help of their spouses and children so they receive proper down time and to take part in leisure activities that bring them joy.
Working moms and stay at home moms deserve rest, too.
Don't be afraid to put time constraints on things. Assign a time that you will close the kitchen and follow a bedtime routine.
Yes, even on the weekends.
If your children are no longer toddlers, they can help with creating the weekly menu and packing lunches.
Children love to feel a sense of ownership and responsibility. Delegate simple tasks to them and see how quickly they'll get the job done.
You're not alone in this Mama!
Extra-curricular activities on a Sunday night? It's not something I'd sign my future kiddos up for, but try to avoid sports games and practices the day right before the week starts, if possible.
As a mother, you have needs too and that doesn't include running around like a chicken with your head cut off 7-days a week.
Set boundaries.
Let me say it again for the moms in the back who can't hear me. Set boundaries Mama!
Create your cleaning schedule, weekly menu, meal prep, follow your self-care routine, do all the things, but not without a plan.
With children you have to be flexible, things happen and emergencies come up, but anything outside of your immediate family or personal responsibilities should take a backseat even if only for one day.
So, what is your Sunday routine? What structure do you have in place as a Mom?
I think sleeping in with your kids is completely fine as long as you don't let the day get away.
Doing this will only leave you with more work to do at night – I'd advise against this.
Is there a way for you to start your Sunday earlier in order to reserve the evenings for yourself while the children are asleep?
If not, can another family member or spouse watch over the kids for a few hours while you take some time for yourself?
There's no right or wrong way to create a Sunday night routine for school, but it needs to be structured in a way that doesn't leave you scrambling on Monday mornings.
Wake up early, cook breakfast, and take some time to read or reflect on the previous week
Take a walk or spend time in the garden with your children
Fix dinner, meal prep, and create a menu for the week
Clean and tidy living spaces in the afternoon
Prepare school uniforms and work clothes
Make sure all homework is done, signed permission slips, and book bags are in the car
Block off 2-3 hours before dinner to nap, play games, and have family time
Complete bedtime routines, lights out before eight o'clock
This doesn't have to be the Sunday night routine that you follow in your household, but it's a start!
A structure and a plan go a long way. We'll all have different variations of how we reset for the week, but you can't go wrong with having a Sunday night routine in place to maximize your productivity.
Download the 31 Day Simple Living Challenge to improve your life today! Now available in the FREE RESOURCE LIBRARY!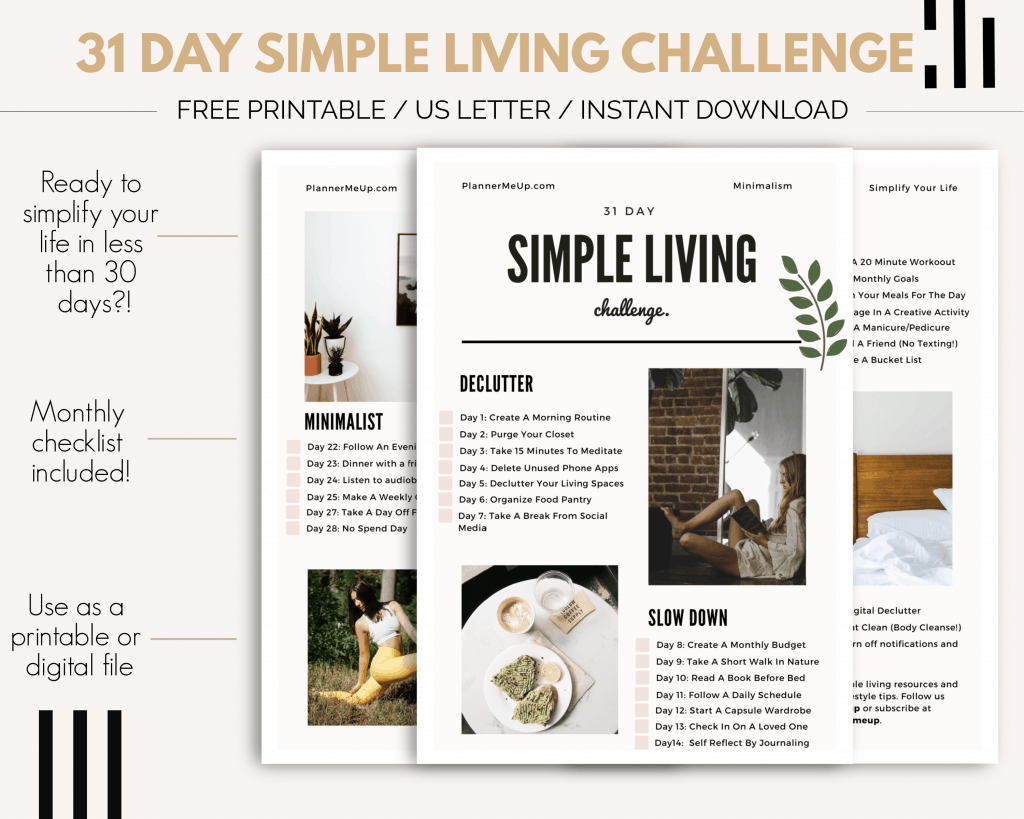 I teach entrepreneurs how to simplify their life and business with less + own their time and maximize productivity towards their personal and monetary goals.