Make your last summer before college unforgettable by adding some adventurous activities to your bucket list.
Seniors in high school can still create memories after graduation. The fun times don't have to end as soon as you walk across the stage. Aside from preparing for adulthood as a college student, celebrate with close friends and family, too.
High school graduation is a huge milestone to cross, so live it up.
Your summer before college bucket list can either be short or long, filled with productive activities, or full of wacky ideas that you enjoy.
But in case you don't know where to start, no worries, I've got you covered!
In this post I share a list of memorable, fun activities you can add to your personal bucket list before college.
What should I do the summer before I go to college?
The amount of items you can add to your bucket list the summer before college could be endless, but it's much easier to divide your activity ideas into categories.
Academic Goals
Dorm Room Prep
Social and Extracurricular Activities
Events and Experiences
Personal Finance
Your categories can look much different, of course, but I recommend keeping it to a minimum of 3-5 areas to focus on. After all, summer is brief, less than 90 days for some.
For that reason, let's keep things simple and realistic.
Summer before college bucket list – Events & Experiences
When the weather's nice and hot, the first thing that comes to mind is having fun outdoors. As a recent high school graduate, you've accomplished a major goal and are more than likely taking the next step towards your future.
Whether you're taking a year off to travel, doing an internship, or enrolling in courses for the Fall, take this season to experience life differently while you're young.
So, let's tackle fun! Here's a list of adventurous items you can add to your once-in-a lifetime summer before college bucket list.
Attend events and curate experiences that will induce an adrenaline-rush.
Check out 20 bucket list ideas to do the summer before college for thrill-seekers!
Rent a kayak
Skydiving (indoor or outdoor)
Mountain biking with a group of friends
Go scuba diving
Take a road trip
Go for a hike in the rocky mountains
Waterfall jumping (safely!)
Whitewater Rafting
Make a day-trip to an amusement park
Horseback riding tour
Dolphin In-Water Adventure
Visit an exclusive museum exhibit
Surfing
Bungy jump
Take part in an ax throwing contest
Attend an escape room
Rock climbing
Take a glamping trip
Get tickets to a music festival
You'll never run out of things to do this summer with the activities above. There will never be a dull moment. Some of these adventures are right in the backyard of your hometown. Keep your adrenaline bucket list safe and budget-friendly!
Summer before college bucket list – Academic Goals
I know, I know. You just got out of school for summer and the last thing you want to think about is cracking open a book.
You can take a sigh of relief, because I'm sharing some productive, fun items for my goal-friends who want to stay ahead of the game.
Create a summer reading list (non-fiction, fiction, or both)
Join a book club
Take a summer class on-campus
Join a camp for first-year college students
Get a summer job to build up your resume
Take part in an unpaid internship or apprenticeship
Volunteer in your neighborhood
Job shadow someone in your career field
Add your favorite high school teachers to your professional network
Create a LinkedIn profile
Summer before college bucket list – Dorm Room Prep
Are you staying on campus for your college career or living at home?
Either way, you can still get in the school spirit by decorating your dorm or bedroom and desk at home.
One of my favorite things about college was showing pride in my school. Sweatshirts, jogging sets, coffee mugs, and swag in my school colors were must-haves.
Trunk parties were a big deal the summer before college. My schedule was jam-packed with going away parties and purchasing dorm room gifts for my high school friends.
It's a great way to prepare for the dorm life experience, but you can also get dorm room inspiration from social media feeds, videos, and decor themes on Pinterest.
Some simple bucket list ideas for students preparing to live on-campus are:
Plan a trunk party
Create a dorm-inspo Pinterest vision board
Order personalized items from Etsy
Start a memory capsule
FaceTime your new roommate
Put together a gift registry
Select a decor theme
Develop a dorm room essentials list
Take a campus tour (in person or virtually)
Attend some on-campus events (if in-state)
Summer before college bucket list – Personal Finance
The cost of college tuition is no joke when you don't have academic scholarships to cover it.
You don't have to be a broke college student. Add increasing your income and personal finance management to the top of your bucket list before college.
Anyone can prosper as long as they have a plan and an abundant mindset.
Years ago, most college students relied heavily on their savings, an hourly part-time job, work study, or their parents for financial support.
Now that internet businesses are booming and here to stay, consider generating some online income through a Shopify store, selling crafts and goods on Etsy, creating a YouTube channel, or blogging.
There are lucrative ways to make money online to supplement your lifestyle as a new college student.
Don't wait until you are knee deep in credit card debt and can't afford to stay enrolled. Get your personal finances under control the summer before you go!
Complete the FAFSA
Apply for a work-study program
Open up a bank and savings account
Start an online business
Outline a budget for each semester
Adapt a frugal lifestyle
Invest in dividend stocks
Apply for scholarships and grants
Complete a paid internship opportunity
Compile your monthly expenses in a spreadsheet
Summer before college bucket list – Social & Extracurricular Activities
The last summer before college is a celebratory yet sentimental time. There are some people you've spent countless hours with in the classroom that you may never see again.
Why not take the summer to reminisce on good times and look forward to what's ahead?
Fireside chats
Join a sports team with friends
Make a collage of senior photos
Start a virtual book club
Dine-in at each other's favorite restaurants
Create a group chat to stay in touch
Plan a graduation trip out-of-state
Follow each other on Instagram and TikTok
Take part in a fun group photo shoot
Throw a summer pool party
You'll never lose touch with your high school besties with the ideas I've shared above!
What is the best thing to do before going to college?
Adequately prepare before the first semester or quarter starts of the new school year.
Try not to wait until the last minute to get all your ducks in a row. Take care of business first.
Schedule an appointment with an academic advisor to register for classes
Schedule an appointment with your financial counselor
Start checking things off your dorm room list as soon as possible
Go on a campus and dorm room tour before school starts
Make travel plans if you're moving out of state
Connect with your roommates
Get a planner to schedule your classes
Pick up school supplies and course textbooks
Build up an emergency fund from a summer job
Create an academic bucket list
What do you put on a college bucket list?
Think about some things you'd like to accomplish in the next 4-6 years while you're enrolled in college. And yes, you can include your time in graduate school, too.
Maybe there are hobbies or interests you wanted to pick up in high school, but they did not offer them at your school or familial obligations got in the way. Add these to your bucket list!
Colleges offer so many resources, free and paid, that there's nothing you can't do, get involved with, or learn while there.
I learned two languages in college, took piano lessons and failed, and even got my start in doing volunteer work for various organizations.
Make your bucket list before college and frame it in your dorm room. Whether it's joining a specific club or interning with a FANG company, throw them on there.
Check out a few of my crazy bucket list ideas for college students below!
Study abroad
Become an residential assistant
Join the Peace Corps
Take a spring break trip to Mexico
Perform at homecoming
Graduate early
Become a teacher's assistant
Graduate with honors
Throw a party in your dorm room or apartment
Lead an organized protest on campus
Run for campus president
You can also use this as a list of things to do in college to be successful. I mean, getting good grades and attending classes is a given, but building your professional network and meeting new people you'll know for a lifetime is invaluable.
One last thing you can include in your bucket list to do before college is following a daily routine that will keep you organized, well-rested, and ready to learn each semester. Grab your copy of the daily routine printable here!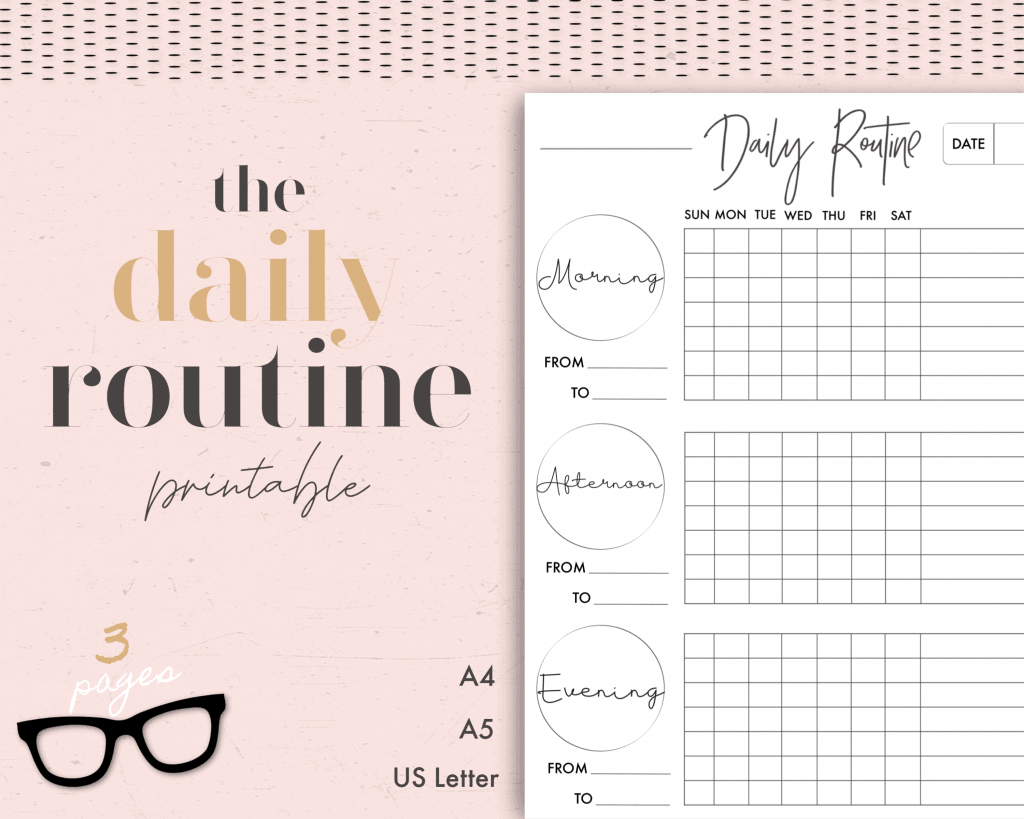 I teach entrepreneurs how to simplify their life and business with less + own their time and maximize productivity towards their personal and monetary goals.