You can show appreciation for stay at home moms through thoughtful gifts. I've curated a list of stay at home mom gift ideas that will bring them ease, joy, and acknowledge their valuable contributions at home.
The best gifts for stay at home moms help with rest, self care, and organization. Overwhelm and self-neglect are two things most busy stay at home moms suffer from, because they put themselves last.
They sacrifice their time, savings, and sanity to keep all the plates spinning in the air.
Some stay at home moms have support from spouses and family members while many others don't.
The bulk of responsibilities fall on moms. What better way to show appreciation for the love and care they provide year round than buying gifts?
What gift to get a busy mom?
Busy moms thrive when they're organized and can manage their time without feeling overwhelmed and bogged down with too many things to do.
Stay at home moms need balance, too. Their lives shouldn't revolve around homemaking and being at their family's beck and all. Moms need tools and resources that can help them be better and more efficient at their job.
Motherhood requires boundaries. Stay at home moms aren't substitutes for in- house maids, therapists, or robots who never get tired.
Being a 'stay at home mom' is not a thankless job. They are worthy of respect and recognition. Supermoms deserve the best of the best.
Keep reading for stay at home mom gift ideas that are great for fitness and headache free. These gifts will also help with developing weekly schedules that allow them to indulge in daily self-care activities.
RELATED POSTS
5 Minute Self Care Breaks That Will Instantly Relieve Stress
Self Care Bath Ideas And Benefits For A Calmer Evening Routine
Stay At Home Mom Gift Ideas For Organization and Wellness
What do you get a new mom for self care?
There are plenty of things new stay at home moms need, but making sure she has all the essentials to feel, smell, and look good is important too.
New mothers pamper their babies 24/7, but they could use some pampering too! Not just on birthdays, Christmas, and special occasions, but every day.
They love a trip to the spa, hair salon visits, staycations, nail parlors, and estheticians as a part of their monthly maintenance. When Moms walk out the door, they want to look attractive, wear nice clothing, and flaunt a luxury item here and then.
Make-up, facials, brows, pedicures, and manicures are must-haves. Think outside of the box when you're deciding on stay at home mom gift ideas. Certificates, trips, and monthly subscriptions are intentional gifts that new moms will appreciate.
Gym and yoga subscriptions
Mindfulness Apps
Wellness Retreat Trip
Pottery Class
Painting Class
Family Photo Shoot with Personal Photographer
Flowers
Spa Certificate
Related Posts:
21 budget-friendly minimalist gift ideas
40 best work from home gifts for her
What are the best side hustle ideas for 2023?
What do you get someone who stays home all the time?
Most people who stay at home all the time treat their living quarters like a sanctuary.
It's their safe place in the world, and where they feel the least vulnerable. When you search for stay at home gifts, comfort is key.
There are plenty of intentional gifts you can get stay at home moms.
Sentimental gift options may include a stay-at-home mom gift basket; gifts for hobbies and personal interests; or gifts for increased productivity.
Personalized gifts are more sentimental. Trust me, you can't go wrong.
Practical gifts for comfort and relaxation also work.
Buy gift cards to a local Starbucks, a streaming service subscription to Hulu, HBO Max, or Netflix, or everyday things they can use around the house. When brainstorming gift lists for birthdays, anniversaries, or Christmas, put yourself in a Mom's shoes. What things do they need, want, and enjoy?
Do they enjoy being in the kitchen?
Do they spend most of their time in the home office?
Are they in the basement working on home improvement projects or special hobbies?
Do they spend endless hours pampering themselves in the bathroom?
Is the couch in the living room their favorite spot?
Observe them if you don't know the answer. Recall the activities you all do together. Listen to the daily activities that they share with you over the phone. Write out a list of unique stay at home mom gift ideas, then go from there.

Practical Stay At Home Mom Gift Ideas
Stay At Home Mom Gift Ideas for Christmas
Stay At Home Wife Gifts
What do I need as a stay-at-home mom?
Support
Sahms aren't on a one woman island. We shouldn't expect mothers to serve others without receiving help in return. They need emotional, mental, and physical support from family and friends, too.
We expect stay at home moms to do the heavy-lifting. They're the go-to person in the house with all the answers.
As a mother, sometimes, taking a step back to remind members of your household of their responsibilities is necessary. Children of elementary and middle school age should know what their schedule is at home.
Weekly chores, homework, and helping you with tasks around the house should be a no-brainer.
Spouses and domestic partners need to do their fair share and be willing to pick up the ball if you drop it.
Finances, child rearing, house repairs and maintenance are a team effort, not one sided. They need to support your dreams and be understanding of the hard days you experience at home. Your role as a stay at home is important and deserves more respect than it's given.
A Social Life
A mommy network is a great resource for building a friend group that is relatable, especially for new moms who have opted to stay at home.
You're going through changes mentally and physically after giving birth.
It's helpful to bounce concerns and any issues with your newborn off of mothers who have been in your shoes before.
Avoid isolation when you're going through postpartum. Avoid this at all costs and embrace your support system.
Take time for yourself, but make it a goal to socialize with friends at least once or twice a month when you're ready to do so.
Gradually invite close friends back into your home by doing small gatherings or dinner dates with girlfriends. Your world doesn't have to revolve around the newborn in your family.
Sure, motherhood is great. But your journey will have its ups and downs, but don't give up on your dreams and who you are as an individual.
You deserve to take up space, just as you did before you became a wife, a mother, or became a stay at home mom. Keep your personal life outside of your children separate. Your self care and mental health will thank you for it.
Hobbies
If you can't think of a leisure activity that puts a smile on your face, you need to check in and recenter yourself. It's time to try some new things! Step outside of your comfort zone or get back to your roots.
The easiest way to pick up a hobby is to do what you love. Reading is something I had to get myself back into after letting other responsibilities take over my life. Always make time for fun.
Life shouldn't be all about work and catering to the needs of others. Do you like crafting, working on art projects, gardening, going to sports games, or hiking outdoors?
Never stop exploring different interests. It's how you discover your gifts and live on purpose.
Weekly Planning
You won't get anything done without a plan.
Most stay at home moms rely on planners to manage their busy lives.
However, there are various methods you can use to create daily routines or plan your entire week for success.
If you don't know where to begin with weekly planning, start by setting intentional goals and put up an oversized monthly calendar in your home office.
There's nothing more satisfying than putting a check mark next to that to-do list for the day, goal-friend!
RELATED POSTS:
5 Morning Habits That Changed My Life
Time Blocking: How To Get More Done In Less Time?
Monthly Budget
Yes, balancing a checkbook is still a thing. But, the good thing is, there's technology like QuickBooks that will do all the calculations for you.
No, you don't need a business to take advantage of all the SAAS software, apps, and digital budget spreadsheets that will keep your monthly bills paid on time.
There is always the old school method of budgeting that only requires a list of your income streams, bills, debts, expenses, and savings.
The monthly budget is a priority for all stay at home moms. Whether you're the breadwinner of the household or not, someone has to keep the lights on. Why not stay organized while doing so?
Passive Income Streams
Hey, it's expensive to live nowadays. Our biggest costs are mortgage payments, rent, car notes, utility bills, and student loan debt..
In the face of increasing inflation and a looming recession, it is crucial to have multiple streams of income.
Stay at home moms have a role to play as homemakers, but there are SAHMs that run full blown businesses.
Some moms sell homemade crafts on Etsy, like customized invitations, art prints, and t-shirts. Others offer virtual assistant services and coaching to professionals in their respective fields.
Moms who need to make ends meet sometimes sign up for gig work such as Uber, DoorDash, Instacart, or Amazon delivery.
Opportunities for creating passive income streams are endless.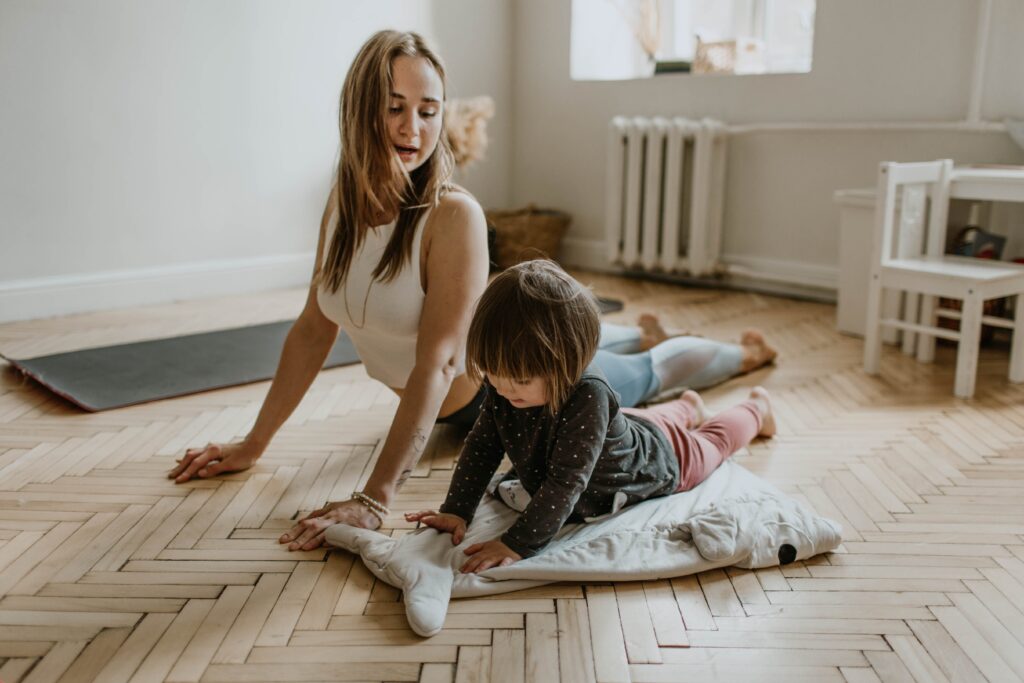 Fitness Regimen
Stay at home moms may move around a lot, but having a healthy diet and exercise regimen go hand in hand if you want to lose weight.
When you schedule in time for daily walks, 30-minute cardio, and weight lifting those calories will melt away.
If the weather permits, I make it my mission to go for a walk outdoors every morning or evening. I don't care if it's only a 10-15-minute walk to get some Vitamin D, I'm doing it.
Exercise doesn't have to be stressful.
After a brisk walk, try to make up the other 15-20 minutes with a light cardio workout and cool down with a stretch.
Meal Preparation
Whipping up dinner and packing lunches may seem like effortless tasks, but if you ask any Mama around, meal preparation is a task many don't look forward to.
Hence, all the last minute dashes to local fast-food restaurants, or how some mothers have Ubereats on speed dial.
Meals prepped without a plan lack nutritional value and just aren't as tasty. Stay at home moms need weekly menus to plan their meals and prep them on Sunday.
Avoid the uncertainty of your kids' meals by providing a nutritious breakfast.
Give them protein, fruit, and vitamins they'll need for energy at school. You can also save yourself time by cooking every 2-3 days or using a meal kit service for precooked items.
Personal Care
Hygiene is the most important thing every stay at home mom needs. First rule of thumb; don't let yourself go.
Schedule a day for you to get your hair and nails done. Call in a masseuse and get your hair done twice a month.
Don't wait until your next vacation to get a bikini wax. Schedule an appointment every 2-3 months to stay on top of grooming.
Do maintenance and upkeep at home if you're looking to save a few dollars. You can do your own brows, lashes, facials, and even glue on press-on nails at home that can last for months.
Remember to give yourself some tender, love, and care Mama, you deserve it!
Interested in simplifying your life in addition to your gift list? Well, try the 31-day simple living challenge and download the FREE printable today!
I teach entrepreneurs how to simplify their life and business with less + own their time and maximize productivity towards their personal and monetary goals.