Where do you see yourself ten years from now?
Hopefully, hugging a cubicle for the rest of your life and clocking into a 9-to-5 every single day isn't one of your long-term goals.
And if it is, well then, godspeed. 
Now I have nothing against being gainfully employed, but we all need a plan ladies. Particularly one that includes multiple streams of income. 
However, I must say that this is much easier said than done when it comes to side hustles for introverts. 
Picking the right side hustle or business can be a little tricky for us. Introverts have fewer options to choose from, because extroverts dominate many fields. 
They're the original entrepreneurs, sales agents, and marketers that can sway consumers out of their hard earned money easily. They love the attention and prefer being the face of their brands. 
Introverts, not so much. We prefer quiet money, well, at least I know I do. 
I don't want my picture plastered all over the internet. I'm not interested in leading masterminds or hopping on coaching calls.
If you know anything about introverts, you should know that we love spending time alone. A side hustle that doesn't require us to show up every day with our game faces on would actually be ideal.
Therefore, I'm sharing seven profitable online side hustles for introverts.
I've compiled a comprehensive list of side hustles for introverts, specifically with women in mind. And guess what? They aren't the same boring suggestions you can find everywhere else.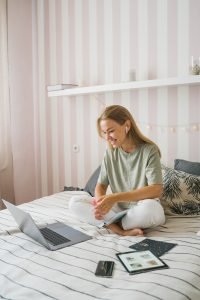 You know, the usual – affiliate marketing, selling online courses, and of course, YouTube.
Then again, I've always dreamt of starting a YouTube channel and running a brick-and-mortar business, but the thought of putting myself out there for the world to see and managing overhead, seriously, exhausts me. 
Introverts already need to recharge from the world. Why should we be drained by our side hustles too?  
Although you won't find many side hustles for extroverts on this list, I wouldn't suggest skipping out on YouTube. It's continuously growing and can be very lucrative with the right amount of investment. There are many niches on YouTube you can get into without showing your face – just keep that in mind.
For many introverts, solitude is golden, even in business. Small chatter, plastering logos with our headshots on it everywhere, and being a team leader isn't all that appealing. 
I, personally, steer away from side hustles that require me to show up as my best self daily in person or on camera. To be honest, it's not realistic, it's often performative (and I say this, respectfully). 
As an introvert, I'm just not wired that way. I'm usually tired after work, mentally and physically, and carve out just enough time at night to dedicate to my passion of writing.
In the evenings, I actually look forward to turning down the noise. Therefore, hopping on YouTube, posting live Instagram stories, and checking in with a team of employees or students scares the crap out of me. 
Someone, send out a bat signal for my anxiety please. 
To my introverted goal friends who can relate, this is exactly why I'm an advocate for earning quiet money online.
Running a successful business from behind the scenes is an introvert's dream.
There are less upfront costs to get started and platforms with built-in audiences ready to buy what you're selling are at your disposal. Online marketplaces are a great way to get started with e-commerce as well. 
You're able to grow a loyal audience and customer base that continues to expand domestically and internationally. Amazon, anyone? 
Starting profitable side hustles for introverts online is more tangible now than ever before. 
What are the most profitable side hustles for introverts?
While there are a plethora of side hustles to choose from, some that are brand new with a lot of buzz and earning potential pop up every other month; I tend to stick with side hustles that will eventually bring in passive income. 
Passive income for introverts doesn't require an exchange of time for the number of dollars earned. It's the complete opposite of active income and usually pays in royalties or dividends.
Passive income earners create products such as books, courses, paid membership communities online, or invest their time and money into real estate properties or stocks upfront to reap the monetary rewards on the back end. 
There are profitable online side hustles for introverts that don't require you to share your personal business on the internet all while making a substantial income without leaving your home.
So if you aspire to be a side hustle queen check out some of the best online jobs for introverts below!
Blogging
Of course, blogging made the list, are you surprised?
There are endless ways to monetize a blog, which is why it's my go-to recommendation. 
Blogging is for the long game, so if you're looking for easy, quick returns, this may not be the best option for you. But if you're interested in five figure months in a few years, keep scrolling!
Blogging consistently with a plan can make you an extra couple of thousand per month through the sale of digital products, affiliate marketing, and display ads.
Lifestyle blogger, By Sophia Lee, turned her college blogging ventures into a full-blown interior design business and now capitalizes off of thirty thousand dollar months. Check out how she paid her way through college by simply starting a blog in the video below. 
Riches are in the niches!
Lifestyle bloggers with a large following do very well in the blogging space, but those who don't already have an audience may quickly find that competition is steep.
Before pursuing blogging as a side hustle, I couldn't decide between writing a personal lifestyle blog or picking a niche with less competition that would ultimately help others. After taking blogging classes and conducting my own research, I chose the latter. 
Niche sites are gaining traction pretty fast! The growth and income potential is exponential and narrowing your blog topics down to just one niche is easier than you think. 
Content planning for niche sites is actually fun and requires more creativity, because you're focusing on one theme compared to ten. 
You can break down broad ideas by writing on related subtopics, which allows you to write more content much faster as well.
Some popular niche site ideas for bloggers are:
Fashion
Decor
Home & Gardening
DIY
Crafting
Travel 
Health & Fitness
Graphic Designer
You may think you need an advanced skill set to become a graphic designer, but with all the free tools and web apps like Canva, PicMonkey, Pixlr, and Affinity, you can start a graphic design business in no time. 
Many graphic designers are self-taught, and believe it or not, are making a killing selling their web designs, e-zine templates, logos, workbooks, social media templates, business planners and much more. 
The options are endless.
Let your creativity pay you $1,000 per month in extra income by hopping onto this trendy online side hustle for introverts. There are plenty of marketplaces where you can sell your designs and templates at various price ranges including Creative Market, Fiverr, and Etsy just to name a few! 
If you have your own site, with loads of traffic coming in, consider adding these digital products to your arsenal. You can price them competitively without the competition, and they are great ways to monetize your website. 
Ten most popular design templates to sell online:
Brand Logos
Banner Templates
Wix, Blogger, and WordPress web designs
Instagram Post Templates
Fashion Product Lookbooks
Customizable Business Planners
Brand Boards
eBook and Workbook Templates
Lightroom Presets
Lead Magnet Toolkits
Have a bit more advanced graphic design skills under your belt? Offer your services in Adobe Photoshop, InDesign, Illustrator, UX Design, coding, branding and typography to rake in the big bucks.
Graphic designers have the potential to make six-figure salaries all while working alone. 
Etsy Shop Seller
E-commerce is the wave of the future. Remember when summer jobs entailed working at the local grocery store, as an office assistant, or cashier at the mall? 
Well, those days are long gone.
Why work for an old boutique when you can open your own online and sign your own check?
Online shopping is taking over and right now is the best time to hop on the bandwagon ladies. 
If you're into making handmade goods, holistic skincare, creating artwork, pouring candles or crafting then put your talents to use on Etsy. 
For the creatives who are new to the world of e-commerce, selling on Etsy is the easiest way to establish an additional stream of income from a side hustle doing what you love online. 
Shockingly, some of the most popular Etsy shops are owned by crafters who crochet, create handmade jewelry, printables, and Cricut stickers.
The blogger, Blue Elephants, shares nine ways you can make a living working from home simply by selling crochet patterns as downloadable PDF files alone. From printable cowgirl stickers, wall art to children's worksheets and daily planners there are plenty of creative side hustles for introverts to choose from.
Etsy shop sellers benefit from an audience that's already locked in and ready to hit the buy button.
Shopify is an option, but not one I would recommend for beginners unless you already have an audience with brand recognition, or are wiz at running ads to bring customers to you.
If you're ready to start your side hustle, but struggle with productivity in your business, grab the 'Side Hustle' productivity planner below. 
Publishing
Not all creative writers make bank. As an author you'll have the luxury of working from home and telling lies for a living, but the road to success and bringing in uncashed checks can be pretty long, hard and grueling.
Making it big as an author can take years and requires the patience of Job. While you'll have more opportunities to diversify your income streams with audiobooks, ebooks, paperbacks, and movie deals (if you're lucky), there's no guarantee that your writing career will take off. 
With that said, you don't have to be an author on the New York Times Bestseller's list to make it in publishing. Instead, you can work behind the scenes as an editor, proofreader, or not dabble in the book writing field at all. 
Ghostwriters and freelance writers make a pretty good living working full time in the publishing industry alone.
Freelance Writing
Freelance writers who are topic experts in certain niches have an upper hand over SEO blog writers, because they can sell their expertise and build a clientele who will pay top dollars for exclusive research and content.
Freelancers that are knowledgeable about certain industries, topics, or interests can easily offer services on their own sites; network with professionals on LinkedIn in search of content creators; or advertise on sites like ProBlogger or Upwork. 
Editing
The indie author industry is booming for both fiction and non-fiction genres. There are many online side hustles for introverts to pursue as an editor, because it's the one thing all professionals, authors, and creatives need to keep their businesses afloat. 
Think about all the books and articles written every single day. Someone needs to proofread and edit their work. This could possibly be you.
 Authors with aliases are looking for their fictional stories to be written. Business owners need copy editors to sell their products. Bloggers with long-form informational articles need their content proofread and edited as well.
Maybe you aren't a prolific writer, but you can spot a grammar mistake from a mile away. Or you're a persuasive writer that can edit copy for business professionals with services and products to sell? 
You don't have to hold an English degree to become an editor, but you do need a skill set; a keen eye, the ability to identify plot holes, or use words to draw readers in. Editors also have a ton of flexibility when it comes to setting their rates, schedules, and how many clients they take on per month. 
Keep this in mind. Editing is the most expensive part of the book production process.
Trust me, goal friends, there is money to be made! 
Amazon's Kindle Vella
Alright introverts, this one is an added bonus. Kindle Vella is not a platform filled with teen readers and a sea of fan-fiction you can binge read on sites like Wattpad or Radish. It's the new wild-wild west of indie publishing on Amazon where writers can upload serialized fiction episode by episode right from the palm of their hands. And yes, I'm talking about your phone. 
Serialized fiction isn't new, but it does require a writing style that's engaging, character driven, and dialogue rich for a particular target audience.
Similar to the Netflix model of binge-watching full seasons of captivating shows, Kindle Vella is just that but in written form. What's even better is that indie authors are paid for their creativity as they release each episode.
Amazon's embedded token system allows readers to unlock episodes and for authors to get their slice of the money pie each time. 
Kindle Vella released in July 2021, so there will be plenty of changes to come, but I encourage you to hop on the bandwagon and strike the iron while it's hot. 
There's no hassle with paying top dollar for a quality book cover either – a captivating stock photo (1600×1600 px in size) will suffice. Editing each episode is necessary of course, but the readers on this app are a bit more forgiving in that area compared to Kindle Unlimited that's for sure. 
Kindle Vella encourages author and reader interaction by way of "likes", notes, and reviews. One of my current hacks on the platform consists of uploading daily to increase visibility with readers and to be crowned as the 'favorite story' of the week. 
Authors can also put their social media handle or link to their email subscription pages in the author's notes section to build a fanbase. 
Kindle Vella is a great way to build an audience for new authors getting their feet wet in the publishing world.
Podcasts
Turn your voice into a money making machine. Voiceover artists have been around for quite some time. We usually hear them on TV commercials, cartoons, on the radio, and audiobook narration. Now we can listen to live and pre-recorded broadcasts directly from podcast apps on our phones. 
Imagine getting paid to talk about any topic of interest and interviewing guests on your very own show.  And just in case you're wondering, podcasters make money from paid sponsorships, the number of downloads, and advertising on their shows. 
The 'future is audio' isn't just a catchy slogan, sunshines. It's the truth!
There's a reason why so many people are hopping onto the audio wave and leaving Youtube behind. It's the perfect opportunity for anyone who doesn't want to be the 'face' of their brand.
All you'll need is a Smartphone or microphone, a platform like Apple iTunes or Spotify to host your podcast, and a simple audio editing app.
You may have heard that the podcasting industry is oversaturated, but that's far from true. It's still in its infancy with roughly 2 million active podcast shows to date and over 104 million listeners per month. Podcasts have yet to peak. The key is to get in now and select a niche that's unique!
It's also another way to monetize your blog content by diversifying the way your content is delivered. Don't worry about doing twice the work, you can use your blog posts as scripts. 
Repurposing the content you already have on your blog is another way to get your podcast up and running in no time.
Some bloggers even opt to transcribe their podcast episodes to use as written content on their websites. You can't go wrong with finding multiple ways to reach a broader audience and make money while you do it.
Photography
Do you know how to make your photos on Instagram pop? Can take a picture at just the right angle for the perfect glamour shot? These are skills that can easily be turned into side hustles for creative introverts. The photography industry is jam packed with online jobs for introverts.
The options are vast and range anywhere from creating and selling stock photos on sites like iStock, Getty, and Shutterstock to selling photo editing services to content creators and brand influencers hoping to make their Instagram feeds stand out among the rest. 
Some photographers even offer their services to entrepreneurs who are in need of professional stock photos, flat lays, and product shots. Imagine receiving free products and a check to upload a batch of photos from the comfort of your home.
Social Media Manager
Not too long ago, I learned that I'm not the only introvert who loathes social media and hates pushing out content for audience consumption. I mean, if it's not organic then I'd rather not post. 
A few years ago using social media to grow an audience or build a brand was completely optional – now it's a must. 
There are many introverted entrepreneurs who aren't the best at juggling social media pages, which is one of the reasons why social media managers are in high demand.
How many of you just want to do the work and go? If possible, I would outsource all of my marketing in a heartbeat.
But if you're a creative introvert who enjoys moving parts behind the scenes, social media management may be the perfect side hustle for you. 
Social Media Managers aren't the typical virtual assistant either. Digital marketing is a popular career for Twitter and Instagram wizzes, with exponential growth in earning potential for many more years to come. 
Whether we like it or not, social media platforms are here to stay.
Large companies are shifting gears to compete with the little guys in advertising and marketing campaign strategies. 
The days of paying top dollar for commercials and ad space on popular websites are long gone.
 Social media is where it's at for many industries and content creators are getting offered thousands of dollars for companies to capitalize off of their audiences alone. 
Brands want visibility and content creators need someone who can keep the wheels spinning on all their social media accounts.
Instagram, Twitter, Facebook, and Tik Tok continue to see massive growth in users. Therefore, small business owners and influencers, alike, need your expertise in running ads, scheduling posts, and creating content ideas that have the potential to go viral. 
If staying abreast of the ever-changing trends on social media or being the mastermind behind Instagram reels is your thing, then social media management might just be an online side hustle you can sink your teeth into.
Alternatively, if content creation and reviewing metrics for ROI on digital campaigns isn't your thing, you can also try your hand at becoming a virtual assistant. You'll find virtual assistant at the top of many side hustles for introverts lists.
They're the brains behind many click funnels, lead magnets, and email marketing we see every single day. 
Related posts: Is It Worth It To Sell On Etsy in 2021?
How do introverts get rich?
That's the million dollar question all introverts would love to know.
How do you get rich without fame and notoriety? Well, there are plenty of ways to become extremely well off financially without becoming a celebrity.
Research has proven that investing in stocks and real estate are some of the fastest ways to attain generational wealth. 
Now will you see results in less than twenty-four hours? Absolutely, not.
In fact, it may take years to develop a diverse stock portfolio with an exorbitant amount of money, or flipping multiple real estate properties to see a return on your investment.
But, the money from both are quite lucrative and well worth the hard work required for you to put in.
Short-term rentals, such as Airbnb and rental arbitrage are also options to consider if you're hoping to get rich without investing much money upfront.
How can I make money without working with people?
Introverts are reserved, quiet people who are introspective, enjoy solitude, and recharge their energy best when they are alone.
I'm introverted to the core. I never aspired to be the career-driven woman who selected a major in college, worked her butt off in her field to climb the corporate ladder, just to be miserable at the top.
I've always kept my passion for writing at the forefront of my mind when searching for ways to make money.
Two things I valued most when selecting my journey to wealth were residual income and autonomy.
As an introvert, hugging a cubicle and upholding titles within a company like they were a badge of honor never appealed to me.
Spare me the corporate politics puh-lease!
After years of enduring challenging personalities and co-workers who believed their self-worth and purpose in life was somehow connected to the work they put into seventy hour work weeks at companies that would terminate them in a heartbeat, I decided my long-term goal was to work alone.
A writing career doesn't require much interaction with people aside from editors, cover designers, and an audience to entertain.
Introverts can easily make money without working with people offline, too.
Some of the best jobs for introverts include:
Dog Walker
House Sitter
Transcriptionist
Accountant
Translator/Interpreter
Travel Vlogger
Affiliate Marketer
Brand Influencer
Picking an online side hustle that's best for you will come with trial and error. Choose the one you genuinely enjoy the most and learn from it. There are many online side hustles for introverts that didn't make this list, but it doesn't hurt to research further. I've also shared an exhaustive list of side hustles for extroverts  you may want to take a peek at, too.
I teach entrepreneurs how to simplify their life and business with less + own their time and maximize productivity towards their personal and monetary goals.