Don't wait until your vacation to learn how to be productive over winter break.
Make use of your time once the holidays roll around by planning your itinerary in advance.
And we all know the infamous question we're asked after returning to work and school. "How was your winter break?"
Colleagues and classmates love to share details about what they did over the holidays. Sleep shouldn't be the only thing you've accomplished during your time away.
Remember, getting asked the same question as a child in elementary school? You had so many exciting things to share and couldn't wait to do a recap with your friends.
Back then, winter breaks were more productive because we had fewer responsibilities and distractions.
Our parents planned enough events and extra-curricular activities to keep us entertained. They made sure we weren't lounging around for months, that's for sure.
Once adulthood reared its ugly head, winter breaks became shorter and non-existent for some.
It's a part of adulting I've learned to accept, which is why it's important to curate a winter break of your own.
If you're a professional, take a day or two off around the holidays – just make sure that the break is worthwhile. Don't treat it as a regular PTO day, plan ahead.
Learn how to be productive over winter break by following these five simple hacks:
Make an oath not to sleep in
Plan an activity schedule beforehand
Carve out time to recalibrate and set goals
Don't neglect your daily routines
Form a new habit
How can I be productive on school break?
School break is what every student looks forward to.
Spring break. Summer break. Winter break.
Three vacations throughout the academic year you're allowed to live life to the fullest, and might I urge you not to take your school breaks for granted.
Trust me, you'll miss them when they're gone.
No matter the season, you're never too young to plan for the new month ahead.
Can't get past binge-watching Netflix, pigging out, or gaming? Well, we've got you covered.
Take out a notepad and start jotting because I've shared the ultimate list of productive things you can do over winter break.
You'll never run out of things to do again.
25 productive things to do on school break
Use a habit tracker to start a new daily routine
Complete weekly journal prompts
Purge your wardrobe
Re-organize your room
Learn a new language
Declutter your living spaces
Volunteer
Visit family
Go on weekly date nights
Check your health (dental and doctor's appointments)
Take up a new hobby (crafting, culinary arts, sports activity)
Join a local or virtual book club
Secure a part-time job
Help your parents with household projects
Start a vegetable garden (indoor or outdoor)
Take an architecture tour of your hometown
Go on a local scavenger hunt with friends
Attend a festival
Visit an art exhibit
Attend a concert or theatrical play
Make a donation to a good cause
Go skiing or hiking
Set new goals for the upcoming school year
Add your own spin to some ideas above and you won't ever have to worry about an unproductive school break again.
As a bonus, try your hand at a new challenge. I have a simple living challenge you can start today.
You can take a 30-day reading challenge, a glow up challenge, or a fitness challenge to stay productive and focused.
Any challenge that will help you significantly improve your life will work.
How do you survive winter break?
Winter break isn't always a joyful time for everyone.
There are many reasons why students and parents dread the impending break from work and school.
If you're struggling financially, don't have a safe place to call home, or are on the outs with family and dealing with grief, the holiday break may not be a joyous one.
But I've got a few tips on how to survive it:
Get a seasonal job – Companies are always looking for extra help around the holidays. It's a great way to stay productive over winter break and earn a few extra dollars over break. Working a part-time job will be easy to manage and will keep your time occupied.
Set boundaries – Block out your schedule and do things that bring you joy. Just because you're out of school or on vacation from work doesn't mean you're available to run errands or meet your family's demands. Don't be afraid to decline invitations to family gatherings or outings that impede on your previously set plans.
Get a new hobby – try something new, such as starting a niche website, take a winter class, or learn a new language. It's also a great way to meet new people and give you away to make the most out of your winter break outside of the house.
Create a winter break schedule – Whether you're a single lady or a mom, create at least 1-2 goals to accomplish per day. Some of your goals may include going out to festive events; making a meal with your spouse or children; or visiting close friends and families you haven't seen in a while.
Ask for help or tap into your support system – Holidays aren't always a propitious time for everyone, but they can be. Students who live in the dorms may not have family or a safe home environment to return to.
If that's the case, you can ask to spend the winter break with a relative, significant other, or a close friend. Finding shelter for 4-6 weeks shouldn't be that much of a feat. Seek help from those who love and support you if you've fallen on hard times.
It's completely okay to celebrate the holidays with an extended family. Friendsgiving is a great option for individuals who don't have siblings or parents to spend quality time with anymore.
Hostels, churches, and renting tiny homes are all resources you can use to survive winter break. They provide many ways to cut costs, give back, and enjoy the holidays with a community.
How to be productive over a winter break in high school?
Winter break in high school is such an exciting time. You've got a few weeks off to sleep in, lounge around, hang with your friends outside of the classroom, and best of all, no homework or pop quizzes.
There are so many events and activities to enjoy outdoors no matter where you live. You can go ice skating, sledding, hit the slopes, or stick around the house to help with Christmas decorations.
The options are absolutely endless. I encourage you not to stay holed up in your room and to leave the high school drama where it is.
Commit to getting into the holiday spirit. Attend a light festival, pick out a Christmas tree, and ensure you're spending just as much time with your family as you are with your friends.
Ditch the social media scroll and focus on doing more productive winter break activities outdoors.
Want to know how to be productive over winter break as a high school student?
Check out my list below!
Visit museums
Digitally declutter your laptop
Reorganize your bedroom
Volunteer at a soup kitchen
Help your parents with a house project
Start a YouTube channel
Pick up new books to read
Have a movie night with friends
Attend a holiday themed party
Plan a secret Santa gift swap with friends
How do you enjoy a winter break in college?
College winter breaks recharge you from the semester. No more waking up early or studying for hours on end for exams.
Make sure your winter break is a stress reliever, not a stress inducer.
If you have a choice, don't stay on campus. There aren't any holiday parties, and the campus is usually empty because students return home to spend the holidays back in their hometowns.
Think of activities and productive things to do on a budget while you're on winter break.
But first things first – relax! You just completed an entire semester. Celebrate instead of taking on any additional responsibilities.
You can start by planning out the months in advance. Don't be afraid to put your needs and desires first.
Brainstorm the following questions:
What type of environment puts you in a state of peace?
What are some low-cost activities and events you can do with friends and family?
What are some ways you can save more money for the upcoming semester?
What goals do you plan to set for the new year?
Which new routines will you follow over winter break?
Those are just a few questions you can consider for getting started. Once you've figured out the answers, create a list of productive things you'd like to do during winter break.
A weekly schedule will also keep you on track. Get ready to have the most productive winter break yet.
How can I be productive over the holidays?
Set personal and professional goals
Engage in leisure activities 1-2 times per week
Complete self-care activities daily
Keep following your morning routine
Do a mixture of indoor and outdoor festive activities
Schedule time to spend with loved ones
Put up holiday decorations
Only purchase items on gift lists or purchase gift cards
Complete your Christmas shopping early
Plan holiday menus in advance
Spend an hour a day on your hobbies
Deep clean your home before any holiday parties
Catch the best sales after New Year's to save more money
Don't overindulge in eating and drinking at holiday parties
Go to sleep at a reasonable hour every night
Create a budget for the new year
Learning how to be productive over winter break isn't a hard feat if you already practice healthy habits.
Winter break is the perfect opportunity to get things done in less time. You have no excuse to be unproductive during the winter break when you have fewer responsibilities and can spend time with family and have fun.
Why do I feel overwhelmed during holidays?
Sometimes, the mere thought of the holidays can induce stress. Mothers and working professionals must deliberately preserve their peace and time.
The feeling of overwhelm can creep up on us when we least expect it.
There's a project at work you want to complete before winter break – overwhelm.
Your children's school recital practices before the holidays – overwhelm.
Family coming into town and you have no time to prepare – overwhelm.
You get sick out of nowhere, but need to shop and prepare for the holidays. OVERWHELM.
There are so many factors that can lead to a stress-filled winter break if you don't get them under control.
A lack of structure in your week during the holidays can also contribute to more stress and overwhelm.
When you don't have to wake up early for work or do drop-offs at school, the day can quickly get away.
It's important to follow a holiday schedule for this very reason. You want to have fewer headaches while at home, not add to them. That wouldn't be much of a break at all.
Adding too many things to your to-do list can lead to more anxiety and stress, too.
It's called a winter 'break' for a reason. Check in with yourself every morning to combat the overwhelm. Assess your mood. Only complete tasks you feel up to doing for the day.
Make a weekly plan with your top priorities to complete and allow enough time for leisure and self-care.
Plan events and family activities months in advance instead of doing everything on a whim.
The holidays aren't an excuse to stay up all night and sleep throughout the day. It's important to stick to your regimen and get an ample amount of sleep each day.
We need rest for our bodies to re-energize.
You shouldn't feel overwhelmed during the holidays. Take action on making sure the season is as relaxing and joyful as you'd like it to be.
For additional resources to manage your time, download the best daily routine planner printable here. Stay on track with your daily routines all winter break long!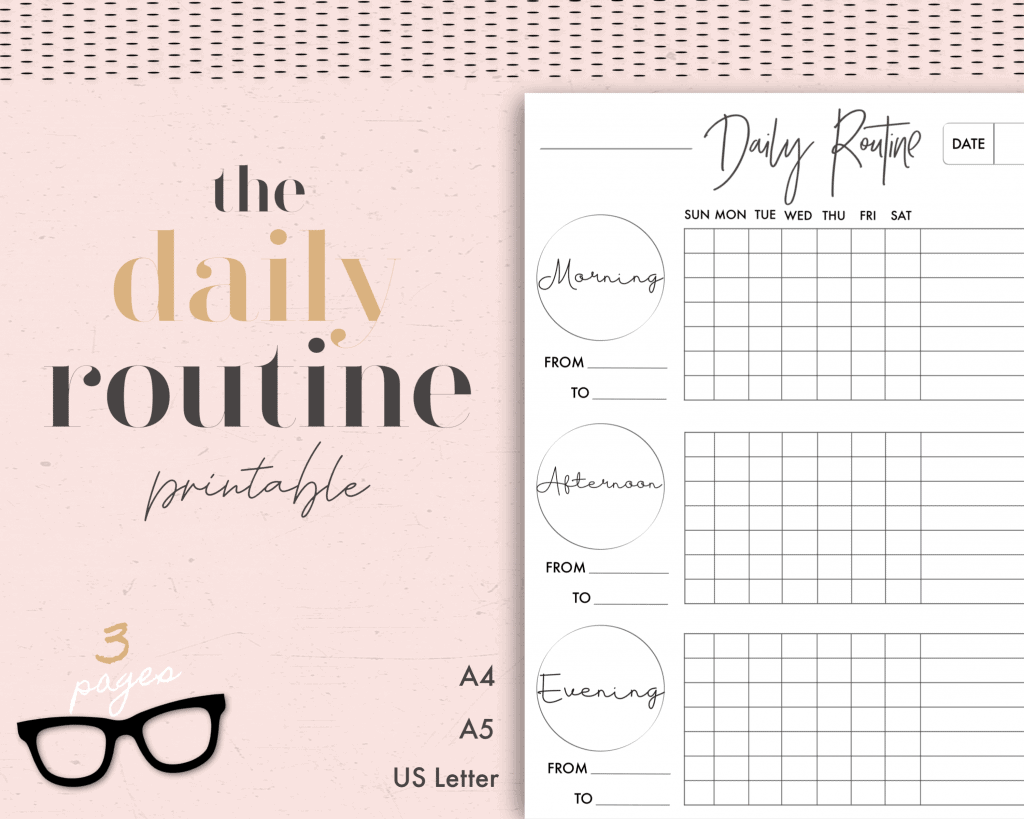 I teach entrepreneurs how to simplify their life and business with less + own their time and maximize productivity towards their personal and monetary goals.