Is it just me, or does anyone else have the urge to understand what their purpose is in life once they turn a certain age? The older I get, the more I ponder what the heck we're doing down here. As soon as I turned thirty-years old, living with intention became very important to me. Goals in life for a woman should align with her purpose.
Some people find purpose in raising their children, changing their community, or using their talents to help other people in life.
Whether it's through song, acting, comedy, teaching, or art, we are all gifted with a skill that allows us to affect the world.
When we were children, our parents did the dreaming. They knew what professions we would pursue and how successful we would become. In high school, our expectations for success were still high. We dreamed big! Anything seems possible when you're inexperienced in life.
By the time we graduate from college, reality sets in. For some, dreams turn into mere fantasies when their heads hit the pillow at night and nothing more.
"What happens to a dream differed?" Langston Hughes asked this question in his popular poem, Harlem. I memorized and recited the poem once during a play.
Now I reference the poem as a daily reminder of where I've been and where I'd like to go. I even printed it out and posted it on my vision board wall.
It's important to hold fast to dreams. If we let them go, the entire world may feel it.
There's a spiritual message embedded in every action, written word, speech, or creative expression that we pass along to people every single day.
Social media and the internet have the power to connect us with strangers across the globe, which is why it's important to take up space in your community online and offline.
Your voice matters.
Your work matters.
Your art matters.
As a woman, you matter.
Your life's purpose should be unique to your interests, gifts, and creative expression.
What's your why in life?
You can affect the people and community around you by simple acts of kindness; being a resource; offering your time; or healing your pain through artistic expression.
When we're searching for a purpose, it requires us to take a deeper look within our souls. Your spirit serves as a guide to inner peace and a purposeful life.
Were you born to lead and empower others?
Are you called to teach the underprivileged and help impoverished communities?
Do you have a passion for creative expression through artwork, film, music, dance, or writing?
Life lessons are all around us. Just when you think you're not making an impact, and feel powerless to touch the world, reflect on the advice you've given to a friend, how you solved a problem, or the kind words you've shared with a stranger.
If you weren't here to pour into others with your god-given gifts, love, and passion to make a difference in the world, and change lives, who would replace you?
Women should set intentional goals in life that will help them fulfill their purpose.
Goals in life for a woman who wants to live a holistic lifestyle
Buy books and resources to educate yourself properly on health and wellness
Practice yoga or pilates
Add meditation to your morning and evening routine
Respond to weekly journaling prompts
Attend monthly workshops for floral arrangement, gardening, and crafting
Take sound therapy classes
Adopt a plant-based diet
Discover ways to tap into your spirituality
Join a wellness club
Prioritize your mental health by conducting frequent self-care breaks throughout the day
Goals in life for a woman who wants to inspire through leadership
Take on leadership roles in groups or committees at work or in your community
Start a local chapter of a club or organization you're a member of
Take leadership courses
Apply to become a member of a board for a cause you're passionate about
Volunteer at your place of worship or local community center
Apply for supervisor or manager roles in your career
Become a mentor to interns, entry-level employees, or troubled youth
Apply for a small business loan to scale
Share your skills and expertise with those in need
Be a mentor to family, friends, or neighbors
Goals in life for a woman who wants to nurture others
Select a career profession that allows you to work with the disabled, children, homeless or senior citizens
Volunteer at schools, churches, homeless shelters, or non-profits dedicated to missions you align with
Help your family members in need
Host family gatherings or holidays in your home
Check-in on close friends, co-workers, and family throughout the week
Counsel your children
Encourage at least one person a day
Set boundaries, but also don't be afraid to let your guard down and be vulnerable
Lend a listening ear to people who are hurting or grieving
Pray for others and wish them well often
Goals in life for a woman who loves creativity
Take classes dedicated to the type of art you enjoy
Publicize your work through media outlets, websites, and social media
Enhance your skill set through practice
Don't let anyone dissuade you from putting your art out there
Find a tribe of creatives with similar interests as you
Work on your creative projects daily
Support other creatives
Reflect on the type of messages you want to convey to the world
Sell your art for what it's worth. Don't price your items less in order to make a sale. Your supporters will come.
Attend conventions, panels, and formal events dedicated to your line of work
Goals in life for a woman that's dedicated to personal growth
Take one class a quarter
Attend conferences to expand your network
Set a yearly self-help book reading goal
Sign up for therapy sessions
Ask your family and friend group for ongoing feedback
Put family first
Recite affirmations
Use a board or app to track your vision
Commit to an active social life
Goals in life for a woman who values self-care
Get dressed up before leaving the house everyday
Conduct monthly maintenance routines (hair, makeup, manicures, pedicures, etc)
Schedule new events and experiences on your monthly calendar
Talk with a close friend or a loved one everyday
Join or build a community you can lean into for support
Treat your body like a temple (exercise daily and eat healthy meals)
Live life slowly and enjoy its simple pleasures
Set boundaries with children, family, friends and your significant other
Take days to rest (and do absolutely nothing!)
Invest in and foster new relationships
Goals in life for a woman that's career-driven
Take on new projects at work
Ask your supervisor for feedback
Always be in search of your next opportunity
Apply for promotions and new jobs
Get certified in your career field to stay competitive
Build a portfolio of your work and accomplishments
Transition to a different industry or career every 5-7 years
Take PTO or sabbaticals to re-set
Manage your mental health
Set intentional career goals that align with your vision
Your roadmap to life will continue to change, but there's no harm in getting your ducks lined in a row.
All the goals we set may not come to fruition, however, even a little direction is better than none.
Where do you see yourself 10 years from now?
It's a common question employers ask during job interviews and the one candidates dread the most.
I'd rather not lie about staying with a company for an entire decade, let alone two years tops.
However, possessing an idea of where you're headed some years from now is a good start.
Some women want to be married with children, at the pinnacle of their careers, or entering retirement.
All three are valid goals in life for a woman to have. If we were only born with built-in compasses, life would be so much easier.
We'd know which decisions to make, all the right turns, and things/people to stay away from.
Sometimes, life throws its own curve balls that we have to navigate alone.
The great thing about having goals is that they serve as an anchor. They motivate us to keep going. They remind us of our purpose. And, more importantly, give new meaning to life.
Imagine living life aimlessly, with no one or nothing to live for. It's not a healthy way to live at all.
Goals in life for a woman don't have to be traditional, but unique to the person they'd like to become.
There are so many expectations for women to live linear lives, it's now the norm.
Graduate from high school, go off to college, start a career, get married, and start a family. Life doesn't have to be this way.
There are also no written rules that say any of the aforementioned things have to be goals in life for a woman.
Maybe you weren't able to go to college or simply opted out. What about the women who don't desire marriage, but want children?
Life is what we ultimately make it.
It's pretty short, so carve out the various elements of life that work for you. Just make sure you have other like-minded people to do life with. Never do life alone.
What are some good life goals?
Marriage and children
Making a difference in the world
Success in your career
Home/land ownership
Financial freedom
Entrepreneurship
Start a non-profit organization
Donate to impoverished communities
Live in a different country
Graduate from college
Go on a road trip
Invent something new!
Become debt free
Creating my business and not relying on only one source of income has been a personal goal of mine since I was a child. I achieved this goal by remaining organized and focused on my vision.
Time management used to be a daily struggle when I had to juggle multiple hats. Now that I use the side hustle planner my life as an entrepreneur is smooth sailing, goal friends!
As a woman, what's your ultimate goal in life?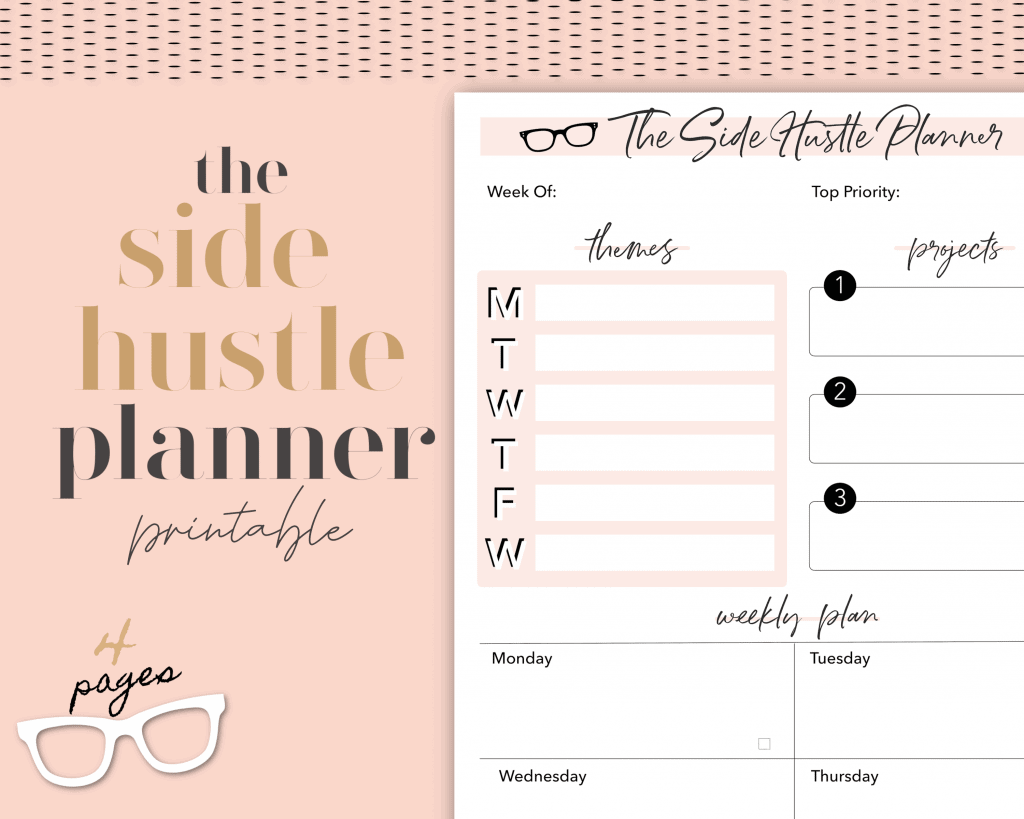 I teach entrepreneurs how to simplify their life and business with less + own their time and maximize productivity towards their personal and monetary goals.