Are you prepared for the cooler months ahead? Grab your planner and keep your schedule open, because there are endless cozy activities you can do this fall season that will bring you comfort and warmth.
If you can't already tell, Fall is my favorite season. The weather is just right. It's not too cold or too hot.
You can dress in layers and purchase all the fashionable boot styles that are in season too, but cooler temperatures always bring me out of my shell.
While I'm a homebody and love to stay indoors, I like to get out and enjoy the breathable, brisk weather any chance I can get.
Whether you want to enjoy the outdoors or remain comfy at home, there are plenty of cozy activities you can choose from that won't break a sweat…or break the bank.
Fall is a time for change. It's the transition period right before the frigid temperatures hit. The leaves change colors, and the sun is a little more forgiving.
Cooler weather is perfect for relaxing alone at home.
I also love spending countless hours chatting with close friends and loved ones in chill settings that are warm.
Picture your ideal day. What are some cozy activities you'd like to explore for comfort at home?
How do you spend a cozy day?
A cozy day for me would include taking a day off from work, surrounding myself with pillows and cuddling underneath my favorite quilt or comforter. Lifting the window slightly enough to feel the breeze across my face in bed.
I'd be sure to bake some homemade bread. Croissants and breakfast biscuits are usually my go-to.
Baking is one of the most pleasant cozy activities I enjoy doing in the Fall.
There's something about the fresh smell of dough wafting throughout my home that puts my mind at ease.
I like to play soft instrumental music while completing a jigsaw or crossword puzzle. I enjoy burying myself inside a heavy blanket and treating myself to sweet treats, such as chocolates, pastries, or my favorite banana nut muffins.
A warm beverage on a cozy day goes a long way with me. When the weather is chilly and blustery outside, I like to stand by the window and watch the leaves fly away and the raindrops fall.
There are a few cozy activities I like to do during my day.
Some of them include watercolor painting, coloring books, knitting patterns, calligraphy, pottery, and embroidery.
These are all cozy crafts and hobbies that will bring you comfort and take your mind off the present.
Ditch the heavy lifting on cozy days.
Try to stay away from high impact, intense exercise and family dinners that take hours to prepare.
Save running errands and active activities for another day. Don't overstimulate your brain on a cozy day. Take it easy.
How can I have a cozy evening?
Spend evenings with that special someone you can binge-watch a new television show with on the couch.  This is one of my favorite cozy activities to do throughout the year!
If you have a family, cooking and eating a light meal together is comforting. As long as you ban all gadgets and electronics from the table beforehand.
Put up a big sign that says no phones allowed!
For working moms with toddlers, you can do a Disney themed movie night or camp out indoors under a makeshift fort. Trust me, your kids will love you for it.
You'll definitely want some alone time on a cozy evening. Candles always put me in a relaxed mood. Aromatherapy is the perfect activity for cozy nights in..
I highly recommend trying some of the self-care bath ideas here. When I take care of my body, I not only look good – I feel good too.
Cooking a one-pot stew or chili for dinner just makes the evening that much cozier.
Plus, it's a dish that's definitely easier to prepare and takes less of my time. Hearty meals are my go-to once the weather breaks!
Once it's time for bed, I like to make sure my bedroom is clean. A large comforter with big comfy pillows is a must-have for my Fall bedroom decor.
I'll eventually curl up with a captivating book in the evening and watch some old movie classics that night. You know, the old films in black and white from the 1930s and 1940s; any Turner Movie Classic will do.
Throw in a small bucket of popcorn and you'll have one cozy night.
25 cozy activities for adults
Play trivia or board games with family and friends
Complete a pop-up 3D puzzle
Painting
Start a fantasy or sci-fi fiction book series
Have a movie night
Crocheting
Candle lit dinner date night
Binge-watch a new mystery/suspense television series
Scrapbooking
Storytelling
Making marshmallows by the firepit
Reading
Glamping
Writing letters
Drawing
Baking
A walk around your neighborhood
Touring a botanical garden
Taking a nap in a hammock
Flower arranging
Putting up holiday decor
Fishing
A midday picnic
Go for an evening ride on a beach cruiser
What are some cozy activities for couples to do in cooler weather?
Take an Italian cooking class
Cuddle in front of the fireplace
Host game night with friends
Build a fort in the living room
Go to a paint and sip
Order takeout from your favorite restaurants
Put a Lego set together
Give each other massages
Go stargazing
Make s'mores
Have a car date
Watch movies in the park
Tour an immersive art exhibit
Learn how to salsa or ballroom dance together
Play pool
Cook your favorite childhood dishes for each other
Book a getaway house
Go wine tasting
Watch the sunset on the balcony or back porch
Take a trip to the museum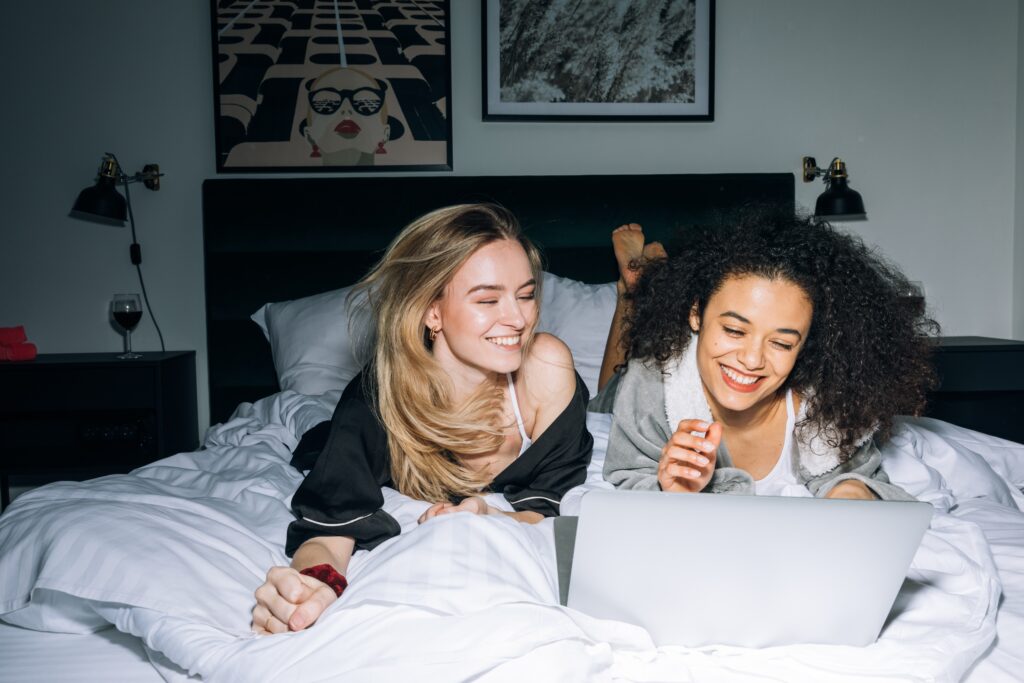 15 cozy things to do with friends
Make a pizza
Host a book club meeting
Have a girl's spa day
Go to a rooftop bar
Have a gardening party
Play a game of charades
Take a candle making class
Attend a calligraphy workshop
Give back through a group volunteer project
Play dress up with a tea party
Go on a hot-air balloon
Visit a bathhouse at a local hotel
Make reservations at a posh new restaurant in town
Take a ride on a yacht
Organize an architectural tour
Cozy Fall Activities
Cozy Activities – Indoor
There are plenty of cozy activities at home that you and your family can partake in.
In fact, the options are endless depending on your interests.
For some, it's writing for leisure, sleeping, or simply cooking popcorn and watching a romance comedy. One of my favorite cozy things to do is listen to soft jazz or blues on an old record player.
It soothes me and sets a solemn tone for the day. I prefer a 'quiet' mind on cozy days for me to zone out and focus on any cozy activities I'd like to engage in.
Whether that's breakfast in bed, doing some arts and crafts in my living room, or starting a recipe book, I prefer no interruptions.
When I'm stuck indoors, I like to lounge around in loose clothing or pajamas, and a pair of my fuzziest socks to combat the colder weather. Pasta and ice cream are two of my go-to comfort foods in the fall.
Learning a new language, making hot apple cider, or how to knit are all cozy activities that are best to do once the temperature drops.
There isn't a right or wrong way to keep cozy indoors.
Maybe you're into creating your own teas, cocktails, or brewing beer.
Relaxing activities like bubble baths, meditation, and reading the Bible can be comforting.
Where I live, the weather drops in temperature; it gets dark earlier, and thunderstorms leave the ground wet and nasty outside. Because of this, I love creating lists of cozy things to do on a rainy day.
Here are a few more cozy activities you can do indoors without leaving the comfort of your home:
Playing an instrument (piano, violin, etc).
Solving crossword and Sudoko puzzles
Baking sweet treats
Give yourself a water foot massage or manicure
Binge-watch a new TV series
Eat dinner family style with friends
Unplug from technology, phones, and social media for 24-hours
Chat with an old friend or older relative for hours
Write a haiku poem
Declutter your bedroom to make it your sanctuary
Attend a virtual workshop or event for fun
Carve pumpkins
Caramel apples
Make paper flowers
Complete a DIY project
Cozy Activities – Outdoor
Visit a local pumpkin patch
Apple picking
Go on a hayride
Go for a hike
Do a corn maze
Visit a food festival
Support the arts by attending a play
Make an ice spiced pumpkin latte
Horseback riding
Boat cruise
Visit the zoo
Decorate your home in Fall decor
Get spooked at a haunted mansion
Try your hand at photography
Axe throwing
Create a wreath for Fall
With this ultimate list of cozy activities to do for Fall, you'll never get bored. Normalize feeling comfortable and cozy as a daily part of your life. Feeling relaxed and less stressed out shouldn't be dictated by the season. Incorporate cozy activities into your everyday life by downloading the 'Daily Routine' printable here.
Live simply, goal-friends!
I teach entrepreneurs how to simplify their life and business with less + own their time and maximize productivity towards their personal and monetary goals.